AGC Partnership & Discounts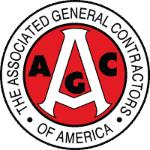 The Associated General Contractors of America (AGC) is the leading association for the construction industry. AGC represents more than 26,000 firms, including over 6,500 of America's leading general contractors, and over 9,000 specialty-contracting firms. More than 10,500 service providers and suppliers are also associated with AGC, all through a nationwide network of chapters. Safety Provisions, Inc., official home of the Hard Hat Training Series, is pleased to partner with AGC in offering OSHA compliant safety training courses at a discount for members.
---
Upcoming Live Training Classes
Can't make one of our live training dates below? Want the training at your site? We can help. Just contact us to schedule training on a different day and/or at your site. When we train for you specifically, we can customize the training to fit your needs. Our live training classes are taught at the Idaho Innovation Center in Idaho Falls, Idaho (See on Google Maps) by our OSHA-compliant trainer.
Online Training
Once you find the course you'd like to take on our online courses page you will be taken to a page to purchase it. As part of the purchase process, you will create a username/password (if you are an employer signing up an employee, input their name instead). Then start the course. You can do it in one sitting or over a matter of time. Once you've completed the course and passed the final exam, you will have immediate access to your certificate and wallet card. We also make available a customizable checklist that supervisors can use as needed to observe you in the workplace. Company training accounts, group training, and multi-course discounts are also available.
View Online Courses
DIY Training Kits
Our training kits are sold as a one-time reusable purchase that can be used to train as many people as you may need to. A training kit includes all training materials necessary to train employees on that specific topic including the main presentation training presentation, videos, posters, final exam with answer key and practical exam. This is a great option for those who need to train employees in locations that do not require internet access. Kits can be purchased as an instant downloadable file, USB or CD.
View Training Kits
Onsite Training
Let our on-site training experts get your workers trained for OSHA safety compliance. We come to you from Rexburg, Idaho (travel costs are included so 5-10+ trainees are recommended) to train your workers on your own equipment. On-Site training is a great option if you prefer not to do your own classroom training or online training. This hands-on training is taught by our experienced OSHA Compliant trainer professionally and quickly. Onsite training is customized to you, therefore, it cannot be purchased online. Call us to discuss your specific onsite training needs at (360)930-9247 or fill out the get an onsite training quote form and we'll respond via email within one business day.
More Onsite Training Info