Crane Standards Updates
This month, OSHA published updates to its crane standards, clarifying operator certification requirements and employer responsibilities.
In the Nov. 9, 2018 publication of the "Federal Register," OSHA changed the requirement for crane operator certification from "type and capacity" to "type or type and capacity." This removes some regulatory burdens from employers, as OSHA determined it impractical to require certification tests for every single crane type and their varying workload limits.
In addition to the operator certification, OSHA clarified that employers must evaluate crane operators' competency with handling the specific equipment, regardless of certification. The changes also determined some minimum requirements needed for determining competency.
The altered standards will come into effect at different dates. OSHA will implement the crane operator requirement changes by Dec. 10, 2018. However, the employer responsibility clarifications will not come into effect until Feb. 7, 2019.
5 Crane Safety Tips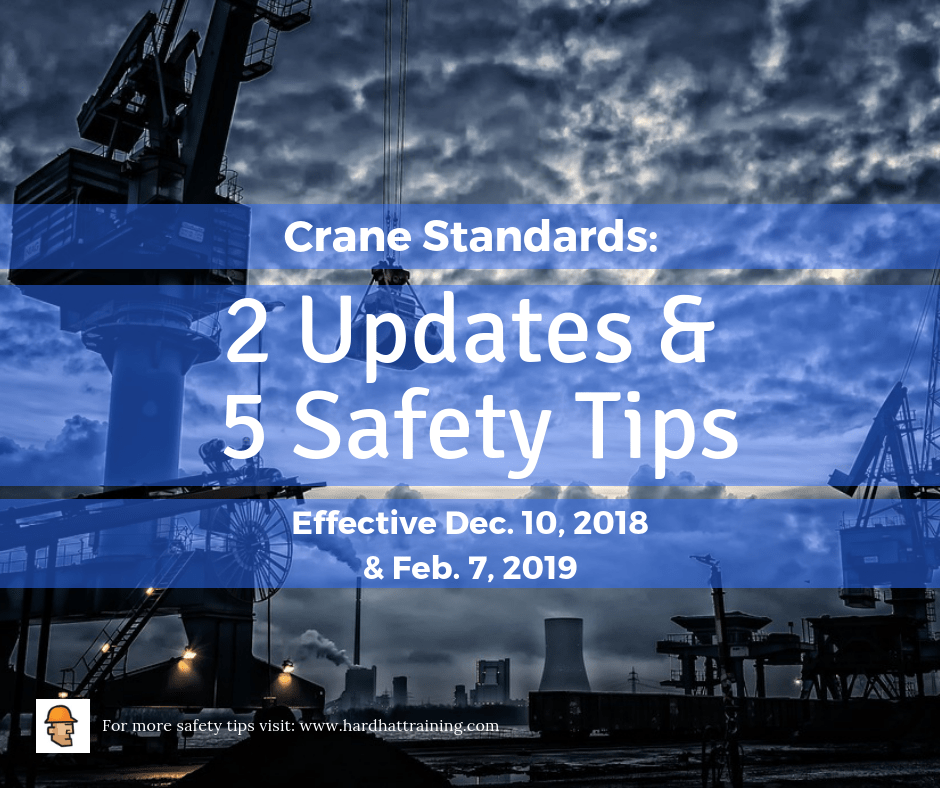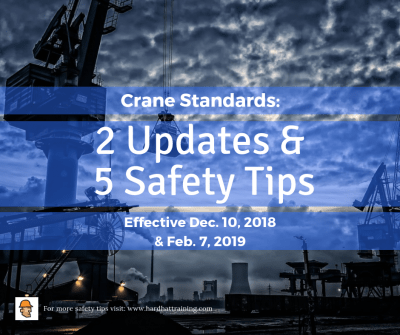 While the standards for crane operating will change over the next few months, the hazards associated with them will stay the same. Take the time to review the following safety tips.
Only allow properly trained, certified, and evaluated workers on the equipment – Complex, heavy machinery requires specialized knowledge for safe operations. That's why operators must have the right expertise and know their crane inside and out.
Inspect the load and equipment before operations – Inspect equipment before each use. If you notice damage, take the equipment out of service and repair it. Inspect loads to guarantee they are properly secured and that they don't exceed the machine's lifting capacity.
Keep on-foot workers clear of operating area during operations – Daily remind workers to constantly keep a safe perimeter around cranes. Plan lifting operations in advance to maintain this boundary.
Allocate adequate time for lifting – Accidents occur when workers cut corners and rush through tasks. Plan operations so they will have enough time to follow proper safety procedures.
Review safety checklists before crane operation – Crane operation is complicated, so it's easy to forget certain procedures. Provide employees with safety protocol cards or checklists. Post checklists in prominent locations around the site.
If you are in need of training, Safety Provisions Inc. and Hard Hat Training offer trainings for Lattice Boom Cranes, Overhead Cranes, Pedestal Cranes, and Rough Terrain Cranes.
Good luck, and stay safe!