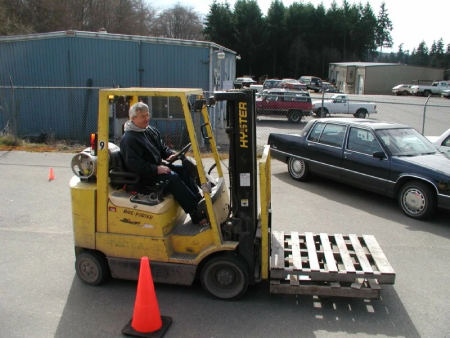 Forklift operators do not need to be trained on each make and model. To learn how to operate a forklift, see our sit down forklift training video.
Operators do not require refresher training if they start using the same type of truck that was made by a different manufacturer.
Each type of forklift has a specific use and is better suited for some tasks than others.
When working with, on, or around a forklift, you will need to know and understand all of the risks that are associated with your job.
Should Employers Provide Forklift Operator Training For Each Make and Model?
If your workplace uses multiple types of forklifts, operators do not need to be trained on each make and model. Employers must ensure that each powered industrial truck operator is competent to operate a powered industrial truck safely. Meaning, operators must receive truck-specific training on the type of truck they will be expected to operate.
The make and model is like Nissan (make) Ultima (Model). Employees do not need to be trained on the make and model of the forklift they are driving, but they do need to be trained on the specific truck they are operating (for example a tugger forklift). If an operator is trained to use a sit-down type fork truck, they cannot operate any other type of forklift unless they have received specific training for it.
What if the Make and Model Change?
The make of any types of vehicle or mobile equipment refers to the brand of the vehicle. The model refers to the specific design of the vehicle. It is important for both employers and employees to understand this in the event that the make or model for their forklifts change.
When this happens, OSHA does not require that employers give refresher training if an operator starts using the same type of truck that was made by a different manufacturer. But the operator will need instructions on anything that is different, like the controls.
What are Forklifts?
Forklifts, commonly called powered industrial trucks (PITs) or lift trucks, are used in many work industries. They are often used to move materials, but they can also be used to raise, lower, or remove items or loads from an area. Forklifts can be ridden by the operator or controlled by an operator while walking (OSHA).
What Are the Different Types of Forklifts?
There are many different types of forklifts. Each type of forklift has a specific use and is better suited for some tasks than others. Each forklift type is divided into one of seven classes. We will dive into detail about each class of forklift in the following sections.
Class I: Electric Motor Rider Truck
These forklifts are usable with pneumatic or cushion tires. The cushion-tired lift trucks are designed for use on flat, indoor surfaces. The trucks with pneumatic tires can be used in dry outdoor settings.
Industrial batteries are used to power these vehicles, and transistor motor controllers are used to regulate travel and lift operations. They can be found everywhere, from the loading dock to the storage facility, and are very adaptable. They are typically employed in situations where air quality needs to be taken into account.
Class II: Electric Motor Narrow Aisle Truck
This forklift is for companies that opt for very narrow aisle operation. This allows them to maximize the use of storage space. These trucks are equipped with special features that are intended to increase speed and efficiency while reducing the amount of space the truck uses.
Class III: Electric Motor Hand Trucks
These forklifts are hand-controlled, which means the driver controls the lift using a steering tiller while standing in front of the truck. The tiller's top is mounted with all of the controls, and the driver moves the tiller from side to side to steer the truck. The smaller capacity models of these vehicles are powered by industrial batteries.
Class IV: Internal Combustion Engine Trucks, Cushion Tire
To move palletized loads to and from the loading dock and the storage area, these forklifts are used indoors on smooth, dry floors. In comparison to forklift trucks with pneumatic tires, cushion-tire forklifts are lower to the ground. These forklift trucks can therefore be useful in applications requiring low clearance.
Class V: Internal Combustion Engine Trucks, Pneumatic Tires
The most frequent locations for these trucks are warehouses. They can be applied in almost any situation, whether inside or outside. This series of lift trucks can handle anything from small single pallet loads to loaded 40-foot containers due to their wide capacity range.
Internal combustion engines are able to power these lift trucks, and they can be used with LPG, gasoline, diesel, and compressed natural gas fuel systems.
Class VI: Electric and Internal Combustion Engine Tractors
These vehicles are adaptable and can be used for many different purposes. They can have electric motors powered by batteries for use indoors or internal combustion engines for use outdoors. These combustion- and electric-powered trucks are frequently seen pulling luggage on the tarmac at airports due to their strength.
Class VII: Rough Terrain Forklift Trucks
Rough terrain forklifts are fitted with large floatation tires for outdoor use on difficult surfaces. They are frequently used to move and lift building materials to different job site locations on construction sites. They are also typical of auto recyclers and lumber yards.
What Hazards Are Associated With Forklifts?
When working with, on, or around a forklift, you will need to know and understand all of the risks that are associated with your job. Being aware of the hazards that are present in your workplace, allows you to prevent accidents and injuries from taking place. These are the seven most common forklift-related hazards in the working industry:
Improper Use
While every forklift operator must receive safety training on how to properly use their forklift, some employees still choose to misuse the vehicle. Some of the most common forms of inappropriate forklift uses are:
Racing
Taking sharp turns
Purposefully ignoring the speed limit
Driving it in pedestrian-only areas
Blind Spots
Blind spots on forklifts are extremely dangerous. If the user of the equipment is not careful, pedestrians can be harmed. The forklift driver's view is commonly obstructed when it is carrying something big and heavy, making it difficult for them to see straight ahead. In these circumstances, the forklift's operator should drive the truck in reverse.
Unbalanced Loads
There is a weight restriction for each forklift as well as individual attachments. The load will have backrests and clasps; nothing should be loose or shaky. Anything that isn't secured could fall and seriously hurt someone.
Speed
Because they are so heavy, forklifts have the same destructive potential as a car traveling at 15 mph, even when moving slowly. Anyone walking around could potentially be in serious danger from the forklift's weight and speed.
Improper Maintenance
A forklift requires maintenance just like any other piece of equipment. Without maintenance, forklift risk exists. Using equipment that hasn't been properly and regularly maintained can be dangerous because of worn forks, broken lights, faulty alarms, or damaged chains.
Pedestrians
Pedestrians are a common theme throughout this article, and that's because anyone — pedestrians or forklift operators — unaware of a zone they're in can potentially cause a dangerous situation. Pedestrians may cause accidents on their own, or the forklift may attempt to maneuver around them and end up in an unauthorized location.
Carbon Monoxide
If the forklift uses an internal combustion engine indoors, unless the workplace has a really good ventilation system, then the carbon monoxide that comes from the engine doesn't have anywhere to go. Poisoning from this odorless, colorless, and tasteless gas can cause major neurological symptoms such as headaches, dizziness, and nausea, as well as brain or heart damage or death.
How To Become a Forklift Operator
Becoming a forklift operator means you will hold a lot of responsibility in your place of work. In factories, warehouses, storage areas, and construction sites, you will have to operate a forklift to move materials. You will need:
To be at least 18 years old – This enables employers to hire you in accordance with local labor laws.
To have some kind of warehouse experience – You will become more accustomed to the hazardous fumes and loud noises that are typically present on construction sites and warehouses as a result of this type of work experience.
To complete an OSHA Aligned training course – Make sure you enroll in a training program that is being taught by a qualified training instructor.
OSHA Requirements for Forklift Drivers
OSHA requires that employers provide their employees with the proper safety training. For forklift operators this should include training on how to safely operate the forklift, how to perform vehicle inspections, and how to keep up with maintenance. And as stated earlier, OSHA also requires that forklift operators must be at least 18 years of age.
Renewing Forklift Certification Requirements
A forklift operator certification expires every three years, therefore they must recertify at least one time during that three year time period in order to keep their certificate up-to-date. If their certification is not renewed, they will not be allowed to operate a truck unless they retake the entire safety training course.
Requirements for Forklift Safety Training
All forklift safety training courses are required to cover the following topics in order to comply with OSHAs safety training standards:
Forklift safety standards
Exterior inspections
Interior inspections
Stability
Safe operations
Know your machine
Know your worksite
Our Forklift Safety Training
Forklift safety training is the first step towards operating a forklift safely. Here at Hard Hat Training, we have a plethora of forklift safety training courses. We offer some general courses such as Powered Industrial Truck, Sit-Down Forklift, or Stand-Up Forklift. We also have more specific courses such as:
Our OSHA Aligned Forklift Certification
All of our courses are OSHA Aligned and are designed with our end-users in mind. Our teams work hard to develop these courses to be efficient, engaging, and affordable. Once you have successfully completed the necessary safety course, you will be given a practical exam. As long as you score above an 80%, you will receive your forklift operator certification immediately.