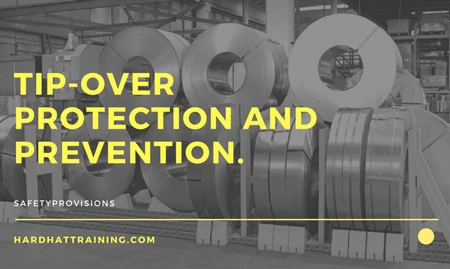 MMA fighter Dustin Ventimiglia returns to the ring one year after fighting for his life in the hospital. It wasn't a match-gone-wrong that put him there, but a work accident caused by poor forklift stability.
Ventimiglia was driving a forklift with the mast fully raised, according to The Bleacher Report. Even though he wasn't driving fast, he took a sharp turn and the momentum tipped the machine on top of him.
The accident broke eight ribs and both femurs, crushed four vertebrae, collapsed both lungs, and lacerated the liver and two major veins.
As serious as his injuries were, Ventimiglia is lucky to be alive. According to OSHA, 85 people die in forklift-related deaths each year, with 42% of those deaths caused by tip-overs.
To help minimize your chances of injury or death while operating a forklift, follow these forklift stability tips to prevent tip-overs.
Forklift Stability Safety Tips:
Accelerate and brake smoothly. Especially when carrying a load, the center of gravity of a forklift shifts while the machine is in motion. Sudden starts or stops can push the center beyond the tipping point.
Follow the load weight capacity of your machine. When lifting a load, the forklift's center of gravity shifts from the rear of the machine towards the front. If the load is too heavy, the center of gravity will shift too far forward and tip the vehicle.
Only lift secure loads. Loads with an off-set center of gravity can increase the risks of a tip-over. Use shrink-wrap or other security measures to keep the load centered on the palette. Also, distribute the weight as evenly as possible on the palette.
Carry loads close to the ground. Driving with the mast raised increases the chances of the machine tipping. Keep the load about 6 to 8 inches from the ground while moving.
Take corners smoothly. When turning, momentum wants to carry the machine forward, affecting the center of gravity. Turning too quickly will push the center beyond the forklift's tipping point and cause an accident.
Watch for steering hazards. Ice, puddles, oil spots, potholes, and other slick materials can affect traction and stability. Avoid these hazards when possible or drive extra careful to avoid a tip-over.
Never play with a forklift. Forklifts are designed for lifting heavy loads, not for racing or for stunt driving. Do not engage in any horseplay.
Forklift Accidents; Every Machine Can be Deadly
Sometimes we talk about certain machines, and the safety standards that accompany it, and scoff or shrug them off. Why? Because there couldn't possibly be any danger involved with that machine, right? Wrong. There are many hazards associated with any machine, no matter how simple it may seem. Take a forklift, for example. Dangerous? Maybe not seemingly. But the answer is actually: yes. Read these two accidents that involved forklifts, then decide for yourself.
Crushed: "A 47 year old man was killed in a workplace accident shortly after 2am Wednesday morning at Les Emballages Knowlton (LEK),the local enterprise known to many as Knowlton Packaging. According to Marie-France Rouiller of the CNESST, Quebec's workplace health and safety board, preliminary investigation at the scene suggests that the victim was crushed beneath a 1,200kg reservoir after making a wrong turn with a forklift.
Rouiller said that three CNESST investigators were dispatched to the scene of the accident to better determine the factors that led to the death, adding that they will be working alongside investigators from the Sûreté du Québec."
Pinned: "A worker was killed Saturday in Queens when he became pinned between a forklift and a delivery truck, sources told The Post.
The man was working at the FDNY parts depot at 30-03 Review Avenue in Long Island City, when he put the forklift in neutral and placed it next to his van.
When he left the heavy machinery to retrieve something from the van, the forklift somehow started rolling, crushing him between the van and the forklift, police sources said.
Cops responding to the scene at 12:35 p.m. found the man unconscious and unresponsive, the sources said. EMS brought him to Elmhurst Hospital, where he was pronounced dead, the sources said."
Being pinned and crushed beneath or behind a forklift is probably more common than you might think. So how do you avoid these hazards? Safety training. Following safety standards can make a huge difference in operating any machine, even forklifts.
Forklift Operations in any Workplace
How often would you think that forklifts are used? How often are they used in your workplace? Believe it or not, forklifts are used very often, for many different jobs, in different industries, and for different purposes. For this reason, forklift operations are important to know about, no matter the workplace in which they are being used. If not used correctly, any company can be fined for unsafe forklift operations.
Recently, a USPS office was fined $88,000 in penalties for unsafe forklift operations at its Urbandale, Iowa, distribution center. Although it is not a construction site, any office or job that utilizes the work of a forklift is required to know safe forklift operations. At this specific USPS office, and investigation took place, following a complaint that alleged forklift operators were handling unstable loads, and driving forward with no clear path of visibility. During this investigation, OSHA cited the postal office for two repeated violations, as well as one serious safety violation, which included employees being exposed to crushing and other hazards associated with operating powered industrial trucks.
Other citations noted by OSHA during this investigation include: lack of appropriate training, instruction, and visual observation; moving loads of an excessive size that created off-center loads; failing to ensure that loads were safely arranged; not reducing speed to a safe level while turning, causing loads to shift, rock, and tip over.
These recent citations could trigger greater attention to forklift operations at other USPS facilities, and even other companies' facilities. Larry Davidson, OSHA's area director in Des Moines, said, "Each year, thousands of workers are injured- some fatally- while operating forklifts. Employers with workers who move materials with forklifts must ensure loads are stable and pathways are clear to prevent injury."
Unfortunately, Davidson is correct. Many injuries occur because of the lack of training in forklift operations. Training in forklift operations could save lives.
OSHA Hands Down Fines After Forklift Death
A forklift accident claimed the life of a San Francisco man last November. The incident happened at Good View Roofing & Building Supply Co. The company is now being fined by Cal-OSHA for safety violations that contributed to the accident. The penalty is in excess of $65,000.
What Happened
Ruan Qiang was operating a fork lift at his companies warehouse while attempting to transport building supplies to a customer's vehicle. He was descending a ramp when a bag of mortar mix fell from the forklift and got stuck under the wheel. Qiang tried backing up but the back wheel fell off the ramp when he turned the wheel too far. As the machine began to tip, Qiang tried to jump to safety but was crushed by the 5-ton forklift in the process.
Violations
The violations faced by Good View Roofing include failure to ensure the proper use of a forklift seatbelt, failure to certify a forklift driver in operation and safety and failure to use the proper industrial ramp. All of these violations were major oversights by the Company and should never have gone unchecked.
What You Can Do
In our efforts to educate companies on proper safety and industry standards, we hear about a lot of accidents like this. You should always wear a seatbelt while operating a sitting forklift and you should never attempt to jump from such a machine when it is falling.
Seatbelts are required on these vehicles for the specific purpose of preventing operators from trying to jump out. If you are securely fastened in place inside the cab, you will be safe. Attempting to jump from this kind of heavy equipment will often result in injury or death.
It always seems more important to do things quickly than to be a little safer. It is only after accidents like these that we realize what safety could have done to prevent it. Do what you can to prevent a tragedy like this from happening to you.
We offer sit down forklift training as well as stand up forklift training. Telehandler training, pallet jack training, and many other safety training courses are also available on HardHatTraining.com.
Forklift Accident Lawsuit
Forklift accidents can lead to more than just physical injury. While they are incredibly dangerous to be caught up in, it can also be dangerous for companies that do not encourage forklift safety. One company is facing a lawsuit because an employee was badly injured in an accident. The following paragraphs explain how accidents can be physically dangerous, but also financially so.
"A West Bay man who fracture his spine and leg in a workplace accident on the Health City Cayman Islands construction site three years ago, when he was knocked off the top of a container by the prongs of a forklift truck, is suing his former employers. Mike McLaughlin (26), who worked as a general labourer at Superior Drywall, has filed a legal claim for over $80,000 in costs and losses plus future damages, incurred because of the injuries. He also states that while he was unable to work because of the accident he was sacked from his job, losing his health insurance.
According to the claim filed in Grand Court this month, McLaughlin, who was only 23 at the time, states that he was working at the site of the Health City hospital in East End in October 2013 when his supervisor asked him to climb on top of a 40-foot container with damaged doors. He stated that his supervisor and another work colleague were trying to use a forklift truck to close the broken door and he had been asked to watch from the vantage point and indicate when the doors were in place.
Positioned on the edge over the door, looking down, as an attempt was made to manoeuvre the forklift and doors, the machine slipped and the prongs of the forklift struck McLaughlin, flinging him into the air and off the container.
Due to the fall McLaughlin fractured his spine in a number of places, broke his ankle and leg, and sustained a number of other fractures. He underwent numerous surgeries and was off his feet for some six months, during which time he was also sacked. Until his accident McLaughlin was a manual labourer but he is now in constant pain and is struggling to find work he can physically do. He has only been able to work part-time in a limited way with a family watersports operation.
According to the claim, McLaughlin says his former employer, Superior Drywall, was negligent because it exposed him to the risk of injury, failed to take precautions or assess the risk, or protect him from injury. He accuses his boss of being culpable in the misuse of the forklift.
Listing his loss of earnings, as well as medical and other related costs, including an outstanding healthcare bill, the total amount comes to almost $100,000 with interest. But the claim also states that McLaughlin will be seeking future costs and losses.
CNS has contacted Superior Drywall and is awaiting a response."
No matter what, you should always be properly trained in whatever equipment you are using, whether it be forklift or other machinery.
In the News: Forklift Fatality
Recently, a young woman stood in a church to give an account of her father's death at work. Before going into the horrific details, she shared a simple memory of him and her on a typical night sharing a seat on the couch and looking at dolls she was begging him to buy her. It made me think of my own daughter and how the best part of my day is coming home from work and receiving a great big hug.
What Happened?
This woman's father died in a forklift accident at work. He was moving a very large load which shifted suddenly. The sudden movement sent his forklift spinning. When the truck tipped over, it ended up landing on the operator. We already know forklifts are extremely heavy and could easily crush any operator during a tip-over. My question is, how did the man fall out? There are two options: The first is the case of the operator trying to jump out, and the second is the operator falling out because he or she is not fastened into the truck. An operator is always safer inside the cab during a tip over. He or She should have no desire to jump from the vehicle. Even if your forklift does not come with a seat belt you can order and install one for a small price.
This fatality could have been avoided with proper safety training and a safe work environment. The Employer is responsible for both. This young woman would have many more memories with her dad if proper training had taken place. Hardhat Training series provides many options to get effective training to you and your employees. They cover OSHA Requirements as well as best practices.  Explore our catalog to find the training programs that are most applicable to your business. Give your employees the gift of returning home in the same condition they came to work as.
We offer sit down forklift training as well as stand up forklift training. Telehandler training, pallet jack training, and many other safety training courses are also available on HardHatTraining.com.
Forklift Accident: In the News
With all the news about OSHA updates, and generalizing construction accidents, it's sometimes easy to overlook the more equipment specific accidents. These can be important, especially when you work with that equipment at your workplace. Forklift accidents, for example, are actually pretty common. Take a look at the links below to see some of the more reason forklift accidents in the news.
It is important to be aware of all the accidents and citations that happen in different work sites. Yes, each incident is tragic. But knowing about them can help you to become more aware of the safety in your own workplace, and you can learn what to avoid. Preventing any fatality or seriously injury is a success. If you need training, you can find it at hardhattraining.com, in the Training Kits, Online Training, or Onsite Training tabs. If you are in need of training, don't wait another minute. Safety should always be your number one priority.
Forklift Training
Employers must train employees to understand proper forklift operating procedures. Safety Provisions offers a comprehensive sit-down forklift training detailing forklift anatomy, stability, operations, and common hazards.
We offer sit down forklift training as well as stand up forklift training. Telehandler training, pallet jack training, and many other safety training courses are available on HardHatTraining.com.
Good luck and stay safe!