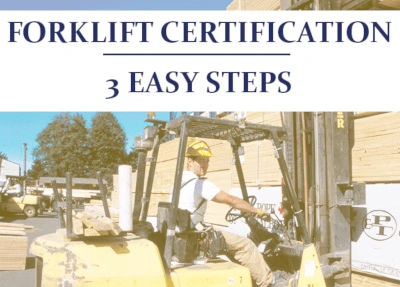 Forklift Certification Requirements
The e-commerce boom has increased the need for warehouse working, including forklift drivers. With this in mind, you may be thinking about becoming one of these in-demand workers. Before you can do that, you need to become forklift certified. You're probably asking, "how do I get a forklift certificate"? Don't worry, follow the step by step process at the bottom of this page. We've also listed info on what a certificate is, why you need one, how long it takes to get a forklift certificate, onsite forklift training cost, etc. below.
The Occupational Safety & Health Administration (OSHA) requires that anyone operating a powered industrial truck (including forklifts) complete a training and evaluation process. You should get formal instruction (classroom training), practical training (hands-on time with the machine), and an on-the-job evaluation where your supervisor observes you working on the machine.
Why Do I Need a Certificate?
First, you may be wondering why you need certification in the first place. Besides the obvious answer of "it's the law," there are a few reasons to get training.
Historically, forklift-related accidents have caused by operators who were either being careless or just plain weren't familiar with their forklift and how to operate it.
Certified operators are thoroughly trained and know all the hazards and risks associated with forklift operation.
Companies who regularly train their forklift operators are more likely to have few accidents, highly-skilled operators, and forklifts that last longer.
What is a Forklift Training Certificate?
A certificate is proof of your training. It should include your name, the date of your training, and the name of the person who performed the training. Employers must demonstrate to OSHA that their operators have all been trained and evaluated. (OSHA 1910.178 (i)(6))
How Long Does it Take to Get a Forklift Certification?
Our comprehensive forklift training takes just 1.5 – 2 hours depending on the person taking the training. Start immediately after purchasing.
How much are forklift course fees?
We often get asked, "How much are forklift course fees"? The answer varies depending on which type of training you choose. Our online sit-down forklift training and online stand-up forklift training both cost $79 per person while our sit-down forklift training classroom kit and stand-up forklift training classroom kit both cost $399 per kit. Both our online and classroom training include the exam. Once passed, you will have immediate access to your certificate and wallet card. Our onsite forklift training cost varies due to travel costs. However, you are more than welcome to request an onsite training quote anytime.
How do I get a Forklift Certificate? Three Easy Steps:
Although the exact process can vary a little bit, depending on the process you use, you will have three easy steps for forklift certification.
Classroom training. Complete the classroom portion person or online. It may include a lecture, presentation, videos, written materials, and study guides.
Hands-on training.  Your employer (or prospective employer) will complete this step, whether you complete the classroom portion through their training process or taking it on your own. A knowledgeable, trained, experienced operator will show you the ropes.
Observation. An employer will complete this step as well.  They will observe you on the machine and make sure you put your training to use.
As you may know (or at least suspect) Hard Hat Training offers the classroom portion that satisfies the OSHA requirements. You can review it on our web site.
We offer sit down forklift training as well as stand up forklift training. Telehandler training and pallet jack training are also available.
Good luck and stay safe!