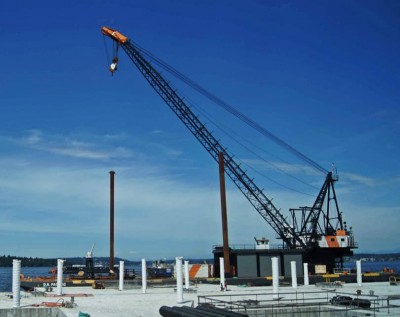 You can spot them hovering over major cities across the globe, but we often take cranes for granted. These engineering marvels help keep construction efforts moving at an incredibly rapid pace. Without them we could have never completed the architectural monuments we enjoy today. They just seem to be there, hovering in the air like beacons of progress.
With these amazing tools, however, come dangers that we probably don't think about. Whether big or small, cranes need to be operated properly and safety precautions must be followed. There have been a number of crane accidents recently that we'd like to draw your attention to as examples of how things can go wrong.
This week in Ottowa, Ontario a crane tipped over while trying to lower a truck into a tunnel construction site. The crane was supposed to be stabilized before it began the task but the oversite caused an accident that almost cost the operator his life. Luckily, the man was able to jump from the cab and get away unharmed.
A similar accident happened in Dallas, Texas on Monday of this week. Unfortunately, one man was killed and another injured when a boom truck crane tipped over near a T-Mobile cell tower. The operator of the crane was uninjured in this incident which demonstrates how important it is for everyone around an operating crane to be aware of what's going on because they may be in the most danger.
Finally, a crane in Weber City, Virginia fell over this week. There were no injuries in this incident but the crane did fall into a nearby river causing substantial damage. What is important to note in this case is that the tipping was caused by heavy rainfall and flood conditions. You must be aware of conditions around you while operating a crane. What may have been a safe situation a day before may be dangerous with the change of weather.
Always be safe and remember to receive the proper training whenever operating heavy equipment.
For training, click on the links below: