With our welding program in the process of being built, it is appropriate to look at some of the symptoms and affects that welding has on welders. The article below explains some of the shocking symptoms that can be found in welders.
"Researchers at Washington University School of Medicine found that welders exposed to airborne manganese at levels well below OSHA limits exhibited problems similar to Parkinson's disease. The more they were exposed to manganese-containing welding fumes, the faster the workers' symptoms worsened. The neurological signs showed up in workers with an estimated exposure of only 0.14 milligrams of manganese per cubic meter of air (mg/m3). The current OSHA permissible exposure limit (PEL) is 5 mg/m3.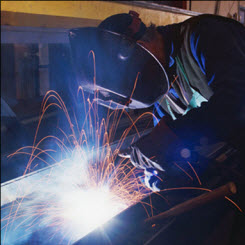 The findings, published in the journal Neurology, suggest that current safety standards may not adequately protect welders from the dangers of the job. The researchers explain that manganese, which is key to industrial processes like welding and steelmaking, can cause manganism at high levels. Manganism is a severe neurological disorder with symptoms similar to Parkinson's disease. Among these are slowness, clumsiness, tremors, mood changes, and difficulty walking and speaking.
The risk, the university researchers say, is what drove OSHA decades ago to limit the amount of manganese allowed in the air at workplaces. While the risk of manganism is believed to have been eliminated, experts have suspected there may still be health effects at levels well below the PEL. This study supports that belief.
Senior study author Brad A. Racette concluded, 'Reducing OSHA's allowable levels of manganese would probably make a big difference in terms of [helping] safety and health workers avoid such risks.'"
With these symptoms on the rise, it's important to be well aware and up-to-date on the latest standards and procedures to follow when it comes to welding. Our job is to help you be as safe as possible in your workplace. Whether it's welding, or something else construction related, its important to always put safety first. Always be trained on how to keep yourself and those around you as safe as possible. If you need training in any area, click on the links below:
Online (eLearning) Training Kits