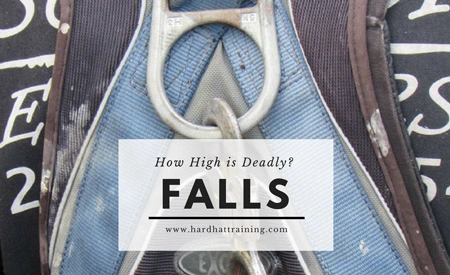 Falls: How High is Deadly?
Thankfully, OSHA has created the Fall Prevention Campaign, providing tips to those who are at risk of falling from heights at work. All employers whose employees work from heights should read and implement these tips to prevent future fall fatalities.
OSHA's Tips for Preventing Falls
Plan Ahead
Plan projects in advance. Begin by deciding how the job will be done, what tasks will be involved, and what safety equipment may be needed to complete each task.
When estimating the cost of a job, include safety equipment and plan to have all the necessary equipment and tools available at the construction site. For example, in a roofing job, think about all of the different fall hazards, such as holes or skylights and leading edges, then plan and select fall protection suitable to that work, such as personal fall arrest systems (PFAS).
Provide Correct Equipment
Workers who are six feet or more above lower levels are at risk of serious injury or death if they fall. To protect these workers, provide fall protection and the right equipment for the job, including the right kinds of ladders, scaffolds, and safety gear.
For roof work, provide a harness for each worker who uses a personal fall arrest systems. Make sure it fits, and regularly inspect it for safe use.
TRAIN everyone to use the equipment safely
Train every worker on proper set-up and safe use of equipment they use on the job. Employers must train workers in recognizing hazards on the job.
Falls, Slips, and Trips, oh my!
It is often said in the work industry that falls are a big cause of deaths among workers. Well, that is said because it is true. It is easy to disregard simple safety standards like wearing fall protection, especially when you don't think it is necessary for what you are doing. However, falls can happen at any height, and these can be dangerous, and even deadly. Read this following article from digitaljournal.com that discusses a recent fall:
"Thomas Moverman recently commented on a development in Texas, where a local man fell to his death on June 15th, 2016. Attorney Thomas Moverman sends his condolences to the family of the fallen victim and reiterates the need for construction safety reform. Moverman urged OSHA (Occupational Safety & Health Administration) officials and federal regulators to meet and issue the implementation of additional construction safety rules, and precautions following the recent incident.
As reported by a local news outlet MySanAntonio.com, a local man was working on an eastbound 151 connector when he fell an estimated 30 feet to his death at approximately 2:30 p.m. on June 15th. Local OSHA, along with local authorities have been called in to investigate the cause of the man's death and to determine whether the safety regulations were adhered to in the incident and if the man's death was preventable. OSHA will mainly focus on determining if the victim was properly latched onto the bridge with a hook, strap, and harness prior to his tragic fall.
The Bureau of Labor Statistics (BLS) concluded that there was a 5 percent increase in fatal work injuries from 2013 to 2014. The BLS indicate that there were nearly 5,000 workplace fatalities during the calendar year of 2014 and that about 20 percent of fatalities were of construction workers. Moreover, nearly 40 percent of construction worker fatalities in 2014, were a result of falls, slips, and trips, as was the case in the recent San Antonio incident. Furthermore, falls, slips, and trips were the leading cause of death for construction workers in 2014, and there were 94 more fall, slip, and trip fatalities across all industries in 2014 than in 2013."
As it says in this article, nearly 40% of construction worker fatalities in 2014 were a result of falls, slips, and trips. Falls are more deadly than you might think, making fall protection, safety standards, and safety procedures much more important to heed.
Make sure that you are properly trained in the area you are working in, before you have a chance to regret it. Follow the links below to check out our training.
What OSHA Says
OSHA standard 1926.451 regulated the use of scaffolding on the worksite. 1926.451(g)(1) specifically addresses fall protection requirements for scaffolds:
Fall protection or fall arrest systems—Each employee more than 10 feet above a lower level shall be protected from falls by guardrails or a fall arrest system, except those on single-point and two-point adjustable suspension scaffolds. Each employee on a single-point and two-point adjustable suspended scaffold shall be protected by both a personal fall arrest system and a guardrail.
Always know and understand OSHA's safety standards and regulations before beginning work at heights.
Falls and fatalities; Encouraging Fall Protection
How many times in your workplace have you been up higher than 10 feet? In those situations, how many times have you been worried of falling, but have been without fall protection? Falls are one of the most common causes of injury in the construction industry, yet it is often overlooked. Fall protection is required at different feet, depending on the job and industry, but it is always smart to be prepared in case of falls. Unfortunately, that is not the case for many companies. The story below is an example of a company that failed to require fall protection:
"Thomas Moverman commented on the Occupational Safety and Health Administration's (OSHA) recent findings that a construction company failed in fall protection. Moverman said violations such as the ones alleged by the OSHA put workers in the construction industry in everyday danger.
EHS today stated in an article that Chief Administrative Law Judge Covette Rooney recently upheld citations and penalties for Flintlock Construction Service, finding the company had knowledge of safety hazards at a 23-story hotel project in Manhattan, New York. An OSHA inspection found that Flintlock failed to protect employees working on scaffolds from potentially fatal falls of up to 26 feet, according to the article. In September 2013, OSHA cited Flintlock for willful and serious violations and proposed $249,920 in penalties. The company appealed the decision stating the violations were not willful.
The OSHA reported that more than 20 percent of all work-related fatalities in 2013 were employed in the construction industry and that one in five of the 4,821 reported fatalities in 2014 were also in the construction industry.The most common forms of injury in the construction business include slips, trips, and falls. These types of accidents, in addition to electrocution and being stuck between objects or struck by them, accounted for over half of construction worker deaths in 2014, according to the Bureau of Labor Statistics."
This story did not include examples of anyone being injured because of the lack of fall protection. However, falling from any height can cause serious, permanent damage if you are not prepared for it. Make sure that you are prepared for falls by offering the right kind of equipment and the proper training.
Falls in Any Workplace
There are many different types of jobs out there. Construction, farming, medicine, and even office jobs. With each job comes hazards and safety procedures to follow. Disregarding any safety procedure, no matter how mundane it may seem, could result in a much more serious outcome than you might think. Specifically, slips, trips, and falls are still among some of the biggest causes of accidents in any industry. Whether it's because of a messy workspace, or a wet floor that didn't have a caution sign, it's easy to fall on the job. The following article was written specifically with farming in mind, but apply each principle to your industry and workplace as well.
"Just about every task undertaken in a farmer's workshop should be approached with specific safety precautions in mind. However, elements as simple as the workshop configuration, keeping it clean and maintaining an up-to-date first aid kit can add to the safety of the facility and everyone working inside it. Agricultural Safety Specialist Cheryl A. Skjolaas at the University of Wisconsin Center for Agricultural Safety and Health, says slips, trips and falls account for some common farm workshop mishaps.
"Make sure there's clear walking space throughout the shop and clear paths identified for work activities," Skjolaas says. "Materials and tools used for projects shouldn't be lying in walking pathways."
Scrap materials, loose parts, scattered tools and equipment or things such as oil spills all create potential for accidents. Debris should be cleared and properly disposed of as soon as possible. Oil or other liquid spills should be covered with absorbent material and promptly cleaned up.
In evaluating a shop for evidence of safety hazards, owners should look at elements overhead as well as those at eye level.
"Many times a mezzanine/balcony is added to a farm workshop," Skjolaas says. "The stairs up to that balcony must be properly constructed and railings must be installed around the balcony perimeter to prevent falls."
'It's not a bad idea to keep the area around the balcony perimeter clear of equipment or supplies,' Skjolaas says. 'That enhances the safety of the balcony area.'"
To reiterate, no matter what industry you are working in, slips, trips, and falls are always a hazard to look out for. Keep your workspace clean, and take any necessary precautions to avoid accident. This also includes being trained in your area. If you need training for operating equipment, click on the links below.
Falls to Death; Recent Fall Related Accidents
It is no secret that falls are a leading cause of death in construction. Whether it be lack of fall protection, misuse or failure of fall protection, unprotected workers can suffer injury, or even death because of falls. Some recent accidents, however, show just how deadly falls can be.
1. "A young man apparently fell from the 40-foot tilt-up construction project at the Bailey Landfill leading to the closure of the facility for the day. An unnamed co-worker who was at the scene said the 21-year-old fell the considerable distance and when he and others got to him, the young man had no pulse.
"He didn't make it," he said in a Facebook post. "I have never in my life felt so helpless and scared. It's going to be a rough night for me. Please help and say a prayer for his wife and family."
Chilliwack RCMP officers were on scene and visitors were turned away from the Bailey Landfill Tuesday afternoon after the incident leading to questions and speculation on social media. WorkSafeBC spokesperson Trish Chernecki said Wednesday that RCMP contacted WorkSafeBC at 1:04 p.m. regarding the incident.
"The RCMP is currently in charge of the site," Chernecki said via email. "WorkSafeBC is investigating." There are few details about what happened but the City of Chilliwack reported late Tuesday that a Titan Construction employee died at the site. The company was working on an approximately 40-foot high tilt-up structure to be used as a transfer station."
2. "Five workers were taken to hospital Tuesday afternoon after they plunged through a floor at a Kanata construction site. Ottawa paramedics said they were called to 1100 Canadian Shield Ave. and Campeau Drive near the Kanata Golf & Country Club shortly after 2:30 p.m. They received a call that several crew members had fallen through the floor to the ground 12 feet below.
Two of the workers suffered serious injuries and were taken to the trauma centre. The others were in stable condition in hospital."
3. "A worker died after a fall at a construction site at 326 Powder Point Ave. on Tuesday morning, according to police.
Duxbury police and fire responded at 7:45 a.m. to reports that a worker had been injured after they fell from the roof of a house under construction. When first responders arrived he was unconscious but breathing, fire Chief Kevin Nord said.
The victim was transported to South Shore Hospital where he later died. Fire Chief Kevin Nord estimated the man to be in his 50s."
All of these workers were victims of falls in their workplace. Whether they resulted in injury or death, all of them are tragic, and all of them could have been prevented. Whether it was lack of fall protection, or failure of fall protection, it could have been worn, worn more properly, or better inspected. Make sure you don't make the same mistakes. Always wear fall protection, inspect PPE, follow all standards and procedures, and stay safe.
If you or your company is in need to fall protection training, we offer that training on our site here.
If you are in need of or interested in other safety trainings, visit our site at www.hardhattraining.com.