Construction Certificates Health and Safety Training Guide
We understand that meeting OSHA training and certification standards can seem like a daunting and sometimes even impossible task. We're excited to offer our new Construction Safety Certificates Helper tool. This tool will help you find the perfect option based your time limitations and budget. The end result is our personal recommendation for which of our training formats we would recommend to you. We've built each of our safety courses from the ground up and have an incredibly devoted team constantly working to improve and update them. We ensure that all our trainings continue to meet OSHA standards and are the best safety training option on the market today.

Safety certifications for construction workers are a vital part of any construction company. Let's get it taken care of. Regardless of the size of your company, all employees working on a construction site must have physical proof of competency. This physical proof is an official certificate showing that you have received training specific to the task you have been assigned, and that you have passed a written and practical evaluation. Having official certificates aren't just recommended; they are required by law.

The tool below will ask you a few (1-5) simple questions about your own or your business' situation. After that, you will be presented with a few options for training or just one, depending on your situation. This is a no pressure and no cost tool. You will not be asked to enter any info and are, of course, free to browse the courses at the end of the questions or leave if you are not satisfied. However, keep in mind that if you do have questions about your results, don't hesitate to give us a call at (208) 252-5331. Our team is waiting to discuss all the training options we offer with you in detail and make certain that you are comfortable moving forward and understand our products and services. Let's get started!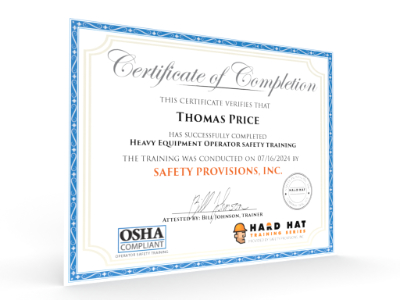 Construction Certificates Helper (Free to Use Anytime)
What's your goal today? Choose one of the options in blue.