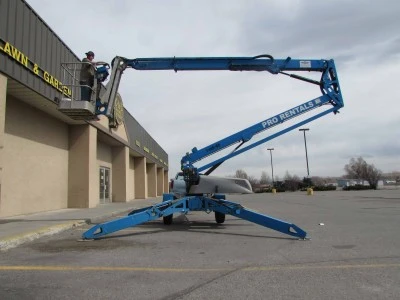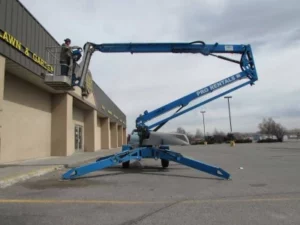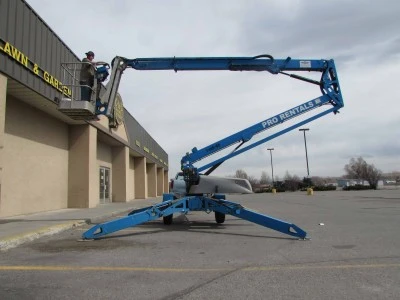 Let's take the time today to do some hazard spotting. Take a quick look at these photos, recently taken of aerial lift operators on the job. Here we have two workers on an aerial boom lift, and one on what is often called a spider lift or a knuckle boom aerial lift. Can you spot the hazards?
What's Missing?
Fall protection. That's the main hazard we want to bring to your attention today.
When you are operating a scissor lift, the guardrails count as the minimum type of fall protection required. We say minimum because that is according to OSHA. But certain manufacturers and employers may require you to wear fall protection when you are in a scissor lift no matter what.
But as far as aerial boom lifts go, like bucket trucks (also called vehicle mounted aerial lifts), the standards require lift operators to wear fall protection and tie into a designate anchor point, no matter what.
So, in these two cases, there are three different employees, two different jobs, but one problem. None of them are wearing fall protection. This is against the OSHA standard 1926.501, a rule which exists to protect workers from falls or accidentally being bumped out of the lift basket.
In addition to wearing fall protection and tying in correctly, you should also make sure you wear the proper fall arrest gear for the job, you know its capacity, and that you and your tools fall under the capacity limit. Lastly, fall arrest gear should be properly inspected and those inspections recorded before use.
For more on Boom Lifts, Aerial Lift Training, and Fall Protection, visit us at www.hardhattraining.com.
Fall Protection Equipment ABCs
In the news, a South African man recently fell about 26 feet from an aerial lift platform. He fractured his arm and ended up with some serious head injuries. We don't know if the company that the man worked for took safety precautions or had fall protection equipment. However, it can be safe to assume that fall protection would have been helpful in that crucial moment. Knowing some components of fall protection can help you to feel more comfortable using the equipment and avoid problematic accidents.
Personal Fall Protection System
The personal fall arrest system, or PFAS, is the most common type of fall protection equipment. There are three main components, or ABCs to this kind of fall protection: anchorage points, bodywear, and connective devices.
Anchorage Points
Anchorage points, though self-explanatory, are crucial for keeping you anchored to one spot so the wind doesn't toss you around. These should hold at least 5,000 pounds per employee in order to be adequate fall protection equipment. They must have a safety factor of at least 2.
Permanent Anchor Systems
Permanent anchor systems stay put for long periods of time so workers don't have to constantly reinstall them. Bolt-on wall anchors, concrete D-ring anchors, and beam trolley anchors are some common ones. Only install these if supervised by a qualified professional.
Temporary Anchor Systems
Whether reusable or for one-time use, these devices are more limited in scope. However, they still need to be able to withstand 5,000 pounds of force. Though it may be tempting, don't wrap a lanyard around a horizontal beam.
Other Types
Horizontal and vertical lifelines are also safe, approved anchors. Check these out on the Fall Protection Training from Hard Hat Training.
Body Wear
Bodywear equipment directly attaches to your body. This changes depending on what task you are doing, but in every instance, manufacturers design them to keep you safe.
Full-Body Harness
This type of body wear is made to give you maximum mobility and to evenly distribute the force of impact. This can be accomplished via straps going over the shoulders, waist, chest, pelvis and legs. It has a shoulder attachment for the D-ring, or a ring that has a tensile load of 5,000 pounds.
Body Belts
Body belts are slightly different because they can restrain and position the worker, but not stop falls. Therefore they are great for keeping a worker away from the edge but not in for an actual fall. This consists of an adjustable strap around the waist with a D-ring attached to it.
Other Equipment
Chest harnesses also position and restrain elevated workers. Like the body belts, they wouldn't be very helpful in preventing a fall. Take a look at other equipment recognized by OSHA.
Connective Devices
Connective devices are the type of fall protection equipment that connects the bodywear to the anchorage point. They consist of different kinds of hooks and lanyards.
Snap Hooks
These hooks connect to the anchorage points and are held to certain standards. For example, they must have a minimum tensile strength of 5,000 pounds and be proof-tested for 3,600 pounds of force. Make sure the snap hook is compatible with the device you connect it to.
Lanyards
Lanyards are a type of deceleration device that can reduce shock absorbed by the body. This is why you shouldn't use a regular rope or cable since they don't absorb shock and will cause injury. Otherwise, you can experience over 2,500 pounds of force during a fall when OSHA regulations require 180 pounds or less.
Conclusion
You can use many different types of fall protection. However, being aware of the most common types can help you recognize what you should and shouldn't be using. Enrico Fermi said that "ignorance is never better than knowledge," so educate yourself and save lives with Hard Hat Training!
Fall Protection Focus
While we all know that fall protection is an essential part of PPE, how much of a focus does OSHA really put on it? This article answers some questions about the focus of fall protection:
The Occupational Safety and Health Administration has issued a New Jersey framing contractor two repeat safety violation citations and fined the company $222,697 for failing to provide proper fall and eye protection.
OSHA said agency inspectors saw Frame Q employees executing framing tasks without the proper fall protection measures in place. The agency added that Frame Q also did not provide adequate eye protection for its employees.
OSHA said it cited Frame Q in March 2014 for fall- and eye-protection violations as well.
Dive Insight:
Lisa Levy, OSHA's office director in Hasbrouck Heights, NJ, said in a statement that falls cause the most construction worker deaths and that Frame Q is acting irresponsibly by not providing its employees with the appropriate protection.
OSHA said the investigation into Frame Q was part of itsLocal Emphasis Program on Falls program for Region 2 (New York, New Jersey, Puerto Rico and the U.S. Virgin Islands), which allows for more inspections on sites where fall hazards are most likely to exist.  According to the agency, there were 828 construction deaths in 2013, with 37% due to falls, slips or trips. In 2015, there were 51 construction deaths in Region 2 alone, and more than one-third of those were due to falls.
OSHA's focus on fall protection has led the administration to take action against several other contractors in different regions of the country. The agency recently cited and fined another New Jersey contractor for a series of safety violations, including fall protection. OSHA said it saw Station Builders' employees in "imminent danger" from fall, personal protective and ladder violations, and therefore issued the company 13 related citations and a $291,997 fine. In Florida, a Fast Carpentry employee on his first day of work was nearly killed when a gust of wind caught a piece of roof sheathing he was carrying, throwing him 14 feet to the ground. He was left seriously injured after being partially impaled on a metal fence post. As a result, OSHA fined Fast $152,145 and cited the company for willful and repeated safety violations.
It is always important to be trained and prepared for any type of job you are performing, not only to avoid fines, but to avoid injury. Fall protection kits will be coming soon to our training collection, but be sure to check out our other training kits as well.
Fall Protection and Walking Working Surfaces
When it comes to slips, trips, and falls, fall protection is often overlooked. In order to avoid this, OSHA has published a final rule that should be learned and followed. Read more below.
"OSHA published the Walking Working Surfaces (29 CFR 1910, Subpart D) and Personal Protective Equipment (29 CFR 1910 Subpart I)/Fall Protection Systems final rule on November 18, 2016. The agency revised and updated these general industry standards "to prevent and reduce workplace slips, trips, and falls, as well as other injuries and fatalities associated with walking-working surface hazards."
Goals for OSHA's New Final Rule
One of OSHA's goals with this new rule is to increase consistency between the general industry and construction standards, which the agency says will make alignment easier for employers who conduct operations in both industry sectors. Other reasons cited by the agency for the changes are to update the requirements to mirror advances in technology; to harmonize them with updated OSHA Requirements and national consensus standards; and to use performance-based language to give employers greater flexibility in the implementation of their regulations.
OSHA estimates that approximately 202,066 lost-workday injuries and 345 fatalities occur every year among workers impacted by the final standard, and that the new rule will prevent 5,842 of these lost-workday injuries and 29 of these fatalities annually.
One improvement cited by OSHA is that the new rule offers employers the flexibility to protect workers from falling to a lower level by using personal fall protection systems (personal fall arrest, travel restraint and work positioning systems) instead of requiring the use of guardrail systems as a primary means, which the prior rule mandated.
Selected Highlights
While there are a number of updates made to the general industry, here are some of the highlights. However, the new rule does not affect the construction or agricultural standards.
Personal Fall Protection System Performance and Use Requirements (§1910.140)
The new rule requires worker protection from fall hazards that are at least four feet above a lower level, and establishes requirements for fall protection in specific situations, such as hoist areas, runways, areas above dangerous equipment, wall openings, repair pits, stairways, scaffolds and slaughtering platforms. It also establishes requirements for the performance, inspection, use and maintenance of personal fall protection systems.
Phase-In of Ladder Safety Systems or Personal Fall Arrest Systems on Fixed Ladders (29 CFR 1910.28(b)(9))
Fixed ladder requirements are phased in where employers should have ladder safety or personal fall arrest systems for ladders that extend more than 24 feet, and phases out the use of cages or wells for fall protection following the time line for alignment below.
For portable ladders, rungs and steps should be slip resistant. Portable ladders used on slippery surfaces should be secured and stabilized; not moved, shifted or extended while a worker is on them; and the top steps and caps of stepladders should not be used as steps. Portable ladders should not be fastened together to provide added length unless designed for such use, and they should not be placed on boxes, barrels, or other unstable bases to obtain added height.
Rope Descent Systems (RDS) and Certification of Anchorages (29 CFR 1910.27(b))
Rope Descent Systems (RDS) now have a 300-foot height limit, and building owners are required to affirm, in writing, that permanent building anchorages used for RDS are tested, certified and maintained as capable of supporting 5,000 pounds for each attached worker.
Training (29 CFR 1910.30)
Worker training is a big deal in the new rule. The rule includes a requirement that employers train their workers who use personal fall protection and work in other specified high hazard situations. A qualified person should train these workers to correctly identify and minimize fall hazards, use personal fall protection systems and rope descent systems, and maintain, inspect and store equipment or systems used for fall protection."
Fall Trauma: The Importance of More than Fall Protection
Fall protection is always emphasized as an extremely important part of personal protection equipment. That being said, the results of falling, even with fall protection, are not always emphasized. This article below discusses a topic called suspension trauma, or the after-effects of falling. When reading this article, keep in mind the importance of not only wearing fall protection, but also the importance of being sure it works well and is on correctly,  making sure the situation around you protects you from falling, and knowing what to do in case of a fall.
"Imagine this scenario: A construction worker is replacing shingles on the roof of a two-story house 20 feet above ground. He loses his footing and slips, falling off the roof. He's wearing a fall-arrest system, and as a result is saved from death.
But he's not out of danger yet.
This worker could potentially experience orthostatic intolerance – also commonly referred to as suspension trauma.
What is it?
OSHA describes suspension trauma as "the development of symptoms such as light-headedness, poor concentration, palpitations, tremulousness, fatigue, nausea, dizziness, headache, sweating, weakness and occasionally fainting during upright standing."
After a fall, a worker may remain suspended in his or her harness before being rescued. Depending on how long the worker remains suspended, the sustained immobility can lead to unconsciousness and even death. This is because of "venous pooling," a condition that occurs when a person's legs are immobile and blood pools in the legs, reducing the amount of blood circulating in the body.
OSHA notes that the body reacts to venous pooling by speeding up the heart rate in an attempt to maintain sufficient blood flow to the brain. If a person's blood supply is significantly reduced, this won't be effective and the body will then "abruptly slow the heart rate and blood pressure will diminish in the arteries." In severe cases of venous pooling, a person may faint or experience kidney failure, which can be fatal.
Move fast
Speed is crucial after a worker experiences a fall. Suspension in a fall-arrest device can result in unconsciousness and death in less than 30 minutes. According to OSHA, workers who wear fall-arrest devices or who may perform rescue activities should know:
How to determine whether their personal protective equipment is properly worn and fitted
How suspension trauma may occur, as well as its signs and symptoms
How to use appropriate rescue procedures and methods to diminish risk while suspended"
Fall Protection is for Everyone
As far as work place accidents go, falls are the most common. Unfortunately, despite the dangers, both employees and employers still forgo using safety equipment to protect workers who are in danger of falling. This negligence will often lead to tragic outcomes. 384 workers died from falls in 2016, accounting for nearly 39% of all work-related deaths that year. While we can't say every one of these deaths could have been avoided by using fall protection, it's a good bet that the number would be significantly lower.
Such is the case with Sutter Home Winery, Inc., located in Napa Valley, which is now facing $100,000 in workplace fines following the death of an employee. Daniel Mario Colombo was repairing the cooling system on the St. Helena Winery roof when he fell 16 feet through a skylight to his death. According to OSHA regulations, any height above four feet requires some sort of fall protection, unfortunately for Colombo, he had no safety harness on when he fell, nor did the roof have any guardrails around the skylight to prevent him from falling.
OSHA is recommending that over $22,000 in fines be given to Sutter, and another $88,000 to Process Cooling International for not providing a injury prevention program and failing to keep workers from getting on the roof with out harness or other form of fall protection in place. This is only part of what the companies are likely to pay, as insurance and workman's comp rates will rise, and they are likely liable for lawsuits that are made by the family.
Accidents like this can be avoided. By taking precautionary measures, using the right equipment, and thorough training, employers will not only avoid paying fines to OSHA but will also cut costs in insurance, workman's comp, and reduce liability for lawsuits. Sadly, despite the savings, companies are still struggling to implement safety in their workplace. These charges are set to increase as OSHA is looking to increase their fines for employers who are not adequately protecting their workers. For companies who take the time and money to invest in safety it will likely pay out for them in the end, and more importantly save the lives of their people.
Fall Protection Could Save Your Life
When you think about fall protection, do you think about working high up on a crane? At the top of a building? Maybe on scaffolding? While all of those scenarios do require fall protection, there are other situations that require it that you may not even think of. Working on building a bridge, for example, would be one of those situations. A man was working on bridge construction when he fell to his death. While the accident is tragic, fall protection could have saved his life.
Fall-Protection: Is it Really Important?
Fall-protection: you know it's there, you know it's required, but how important is it, really? How likely are you to be hurt in any way if you don't wear fall-protection? Well, highly likely. And we aren't just talking about being physically hurt. Recently in Florida, OSHA fined a contractor for fall-protection violations, and they were hurt by $143K in fines. Here is a brief of the case:
Longwood, FL–based Collis Roofing faces a $142,865 fine from the Occupational Safety and Health Administration after the agency found the contractor didn't provide fall protection for workers at 6 feet or more above ground level and failed to offer eye protection for workers operating powered nail guns on a job site in Deland, FL.
OSHA issued the contractor two repeated violations and one serious violation. The latter was issued because the company did not extend a portable ladder 3 feet above the landing area.
The company has been cited a total of eight times since 2011 for willful, repeated and serious violations related to fall- and eye protection. The latest inspection occurred through OSHA's Regional Emphasis Program on Falls in Construction.
Fall-protection continues to be the leading cause of work-related fatalities. OSHA released a list of the top 10 most-cited safety violations of 2016, and failure to provide workers with fall-protection was at the top of the list. This represented about 6,930 violations in the construction industry. So, is fall protection really important? It would appear so. OSHA is cracking down on contractors that fail to provide workers with adequate fall-protection. The fine that this Florida contractor was faced with was pretty small, compared to some other companies that have been fined with $300K+ for the same reasons. Remember, OSHA raised its maximum penalty payout by 78% for violations, in hopes that it would influence contractors to ensure safety as a priority. Don't fall prey to the fines and the injuries. Help keep yourself and those around you safe from harm by always wearing fall-protection, and always being trained.
Is Fall Protection Still a Big Deal?
Are you tired of hearing about all the falls and lack of fall protection in construction? Well, so are we. But unfortunately, fall protection still makes the list of the top 10 OSHA violations. According to a report released in October, the top 10 OSHA violations for 2016 were as follows:
Fall Protection, 1926.501 (C) – 6,929
Hazard Communication, 1910.1200 – 5,677
Scaffolds, 1926.451 (C) – 3,906
Respiratory Protection, 1910.134 – 3,585
Lockout/Tagout, 1910.147 – 3,414
Powered Industrial Trucks, 1910.178 – 2,860
Ladders, 1926.1053 (C) – 2,639
Machine Guarding, 1910.212 – 2,451
Electrical Wiring, 1910.305 – 1,940
Electrical, General Requirements, 1910.303 – 1,704
Fall Protection, Bucket Trucks, Aerial Lifts
Fall protection – what is and what can it do for you? Well, to be blunt it is what is says it is: it is there to protect you in case of a fall. And it can save your life, that's what it can do for you. It's as simple as that. So why then do a lack of fall protection devices continue to top OSHA's list of most commonly cited violations? How many people, I wonder, have to fall and get injured or, worse, die before we start heeding the standards, the very rules in place to keep us safe?
With this in mind, I want to share a few quick scenarios we were recently witness to or heard of.
Just down the street from where we work, four employees were working from aerial boom lifts and scissor lifts. In one scissor lift, one man was standing on the top of the rungs. He was wearing a full body harness with a lanyard. BUT he was not tied in. We won't even talk about the fact that he should not have been standing on the guardrail in the first place. But if you were going to break that rule, why would you not tie off to a designated point? In a nearby Genie aerial boom lift, the worker was not wearing fall protection at all. This, of course, is not acceptable. Any time you are in a boom lift, you must be wearing fall protection gear, and you must be tied in correctly.
We recently put on a bucket truck training class for several operators. Unfortunately, we were asked to teach this class because of a fatality dealing with fall protection. And then two weeks later, we were in a different part of the country putting on another bucket truck class. And they didn't have fall protection gear at all.
In Rhode Island, two bucket truck operators were saved because of their fall protection when their truck tipped over while doing bridge work, dangling them above the water below.
On a more serious note, in an event that had nothing to do with heavy equipment, but everything to do with wearing fall protection and staying connected at all times, a woman at a zip line park momentarily disconnected her lanyard. In that moment, she lost her balance and fell to her death.
Lastly, while taking photos for one of our training kits, we observed several home builders walking the beams. They were wearing fall protection but were not tied off anywhere.
The list goes on and on, but there is really no excuse anymore for not wearing fall protection when working at heights. It cannot protect you from falls if you are not wearing it. So when it is required wear it all the time. Don't be the fall guy.
And check back soon for the upcoming release of our fall protection training kit and our fall protection online training course.
Online (eLearning) Training Kits