This was an interesting article I came across, especially considering some of the high heat that some parts of the U.S. have been enduring. Check it out: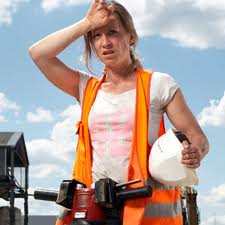 ATLANTA - In 2014, 2,630 workers suffered from heat illness while 18 died from heat stroke and related causes on the job - all of which was preventable.
To raise awareness about these dangers, the U.S. Department of Labor's Occupational Safety and Health Administration, employers and trade associations will conduct a one-hour Safety Stand-Down at construction sites and workplaces in eight Southern states from June 27 to July 1, 2016.
Workers in Alabama, Florida, Georgia, Kentucky, Mississippi, North Carolina, South Carolina and Tennessee will stop work voluntarily for one hour at 7 a.m. EDT to conduct safety training focused on how to recognize the symptoms of heat-related illnesses and prevent these illnesses when working in hot weather.
Every year, thousands of workers nationwide suffer from serious heat-related illnesses. OSHA investigations of recent heat-related deaths found a majority involved workers on the job for three or less days - highlighting the need for employers to ensure that new workers become acclimated to the heat when starting or returning to work. Labor-intensive activities in hot weather can increase body temperatures beyond a level that sweating cannot cool normally. Heat illness may manifest initially as heat rash or heat cramps. The illness can quickly elevate to heat exhaustion and then heat stroke without simple prevention steps.
"People who work outdoors in extreme hot weather - in industries such as agriculture, construction, baggage-handling, roofing and landscaping - must be aware of the dangers," said Kurt Petermeyer, OSHA's regional administrator for the Southeast. "Employers are responsible for protecting workers from illness or injury when temperatures increase. This safety Stand-Down initiative seeks to educate employers and workers alike. We encourage companies throughout the region to participate."
Under the Occupational Safety and Health Act of 1970, employers are responsible for providing safe and healthful workplaces for their employees. OSHA's role is to ensure these conditions for America's working men and women by setting and enforcing standards, and providing training, education and assistance.
Also don't forget to check out some of our training kits and online training packages to help your company be safer and a more positive place to work.