5 Quick Steps to Getting OSHA Certified
Determine whether you need certification in construction, maritime, or general industry training. The OSHA 10 and OSHA 30-hour courses are offered for employees in the construction, maritime, and general industries. Ask your employer which one you need.
Find a certified OSHA 10-hour or 30-hour course. OSHA has authorized a select few training providers and trainers to offer these courses. Visit this  website to find a training option for you.
Take the course. Set aside time to complete the course. As the names imply, the OSHA 10-hour course takes 10 hours and is to be taken for no more than 7.5 hours each day. The OSHA 30-hour course takes 30 hours and is also to be taken for no more than 7.5 hours each day.
Pass the exam. Complete the written exam. The training company you choose will determine what a passing score is.
Get your OSHA card. The Department of Labor issues OSHA DOL cards to trainees who pass the OSHA 10 or OSHA 30-hour courses. Your card will arrive in the mail a couple weeks after finishing your course.
To clarify, an OSHA certification refers to the OSHA Outreach Training Program's 10-hour or 30-hour safety training course. OSHA does not require employees to take these courses; however, some states require them (Connecticut, Florida, Massachusetts, Missouri, Nevada, New Hampshire, New York, Pennsylvania, Rhode Island, and West Virginia).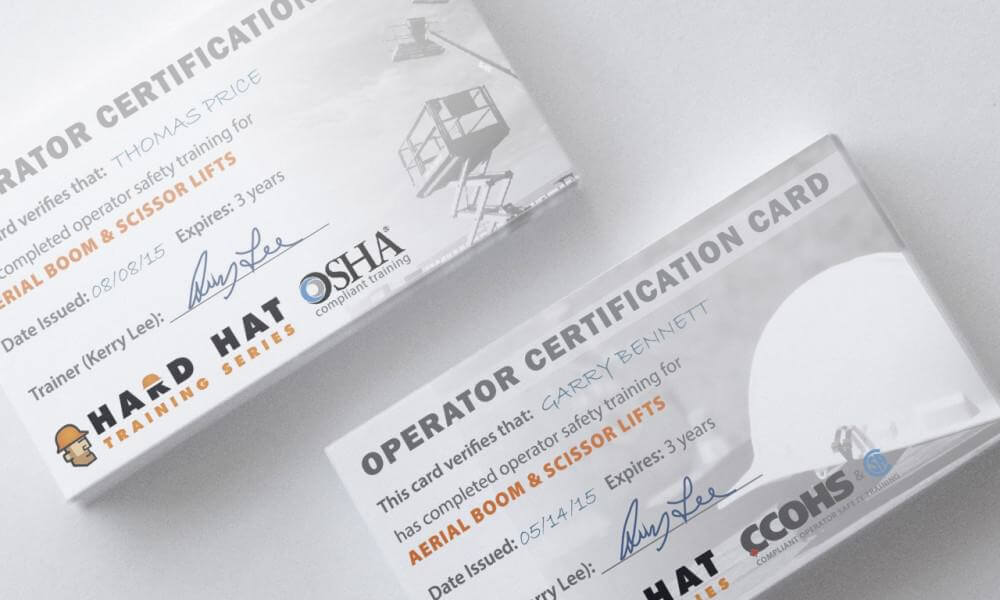 If you came here looking for how to get OSHA-compliant safety certification, refer to the six easy steps below.
6 Easy Steps to Getting OSHA-Compliant Certification
Determine what type of safety training you need. You must take the appropriate safety training for the work you're doing. For example, if you operate a telehandler, regular forklift safety training isn't enough. You need training specific to the job hazards you will face.
Sign up for a training course. Research which safety training companies offer OSHA-compliant courses. Note that safety training companies offer different training methods. For example, the Hard Hat Training Series offers online, onsite, and DIY kit trainings. Select whichever option works best for you.
Take the course. Set aside time to complete the course. Depending on what you're learning, courses can take as little as a half-hour to as long as 40 hours.
Pass the exam. After taking a safety training course, you have to complete a written exam to prove that you paid attention. While this varies from one company to the next, we recommend that you get 80% or higher to pass the exam.
Complete a practical exam (when applicable). After completing the written exam, you may need a hands-on evaluation to show your competency. Normally, an experienced trainer or your employer will perform the practical examination and decide whether your performance was adequate.
Obtain your certificate. After you've passed both the written and practical evaluations, you should receive a certificate or wallet card that you can show your employer.
The Hard Hat Training Series offers hundreds of OSHA-complaint safety trainings. Together, our team offers decades of experience in safety. Most recently, we've been recognized by Training Industry on their 2020 Watch List for up and coming training companies.
If you want to see our catalog, check out our website.
Good luck and stay safe!