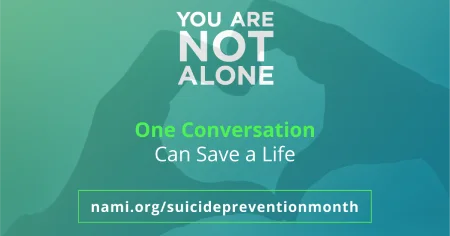 Hopefully, you will never have to talk yourself or someone else down from committing suicide, but it's best to always be prepared. Today, we want to look at all the resources available if you or someone you know is contemplating suicide.
Crisis Hotlines
Crisis hotlines provide immediate support to millions of individuals each year. They allow people to speak with a trained volunteer or counselor anonymously over a call or via text.
911
911 is the emergency phone number used throughout the United States. Don't hesitate to call if you are having suicidal thoughts.
National Suicide Prevention Lifeline
The National Suicide Prevention Lifeline is open 24/7 completely toll-free. It is confidential. Callers can talk to English or Spanish-speaking counselors. There are also options for deaf and hard of hearing callers. In addition to the phone lines, they offer an online chat option through Contact USA.
Veterans Crisis Line
The Veterans Crisis Line is open 24/7 completely toll-free. Individuals can choose between phone calls, online chats, and texting options. There are also options for deaf and hard of hearing individuals. This line is available to veterans and their families.
The Trevor Project
The Trevor Project offers support and suicide prevention to LGBTQ teens using a 24-hour hotline. They also have limited webchat and texting options.
Trans Lifeline
The Trans Lifeline provides crisis intervention hotlines for the transgender community in the U.S. and Canada. Callers can speak with transgender individuals 24/7.
SAMHSA's National Helpline
The Substance Abuse and Mental Health Services Administration's hotline has confidential help for English and Spanish-speakers. They provide 24/7 support for individuals struggling with mental health and substance abuse.
Online Support Forums
As an alternative solution to hotlines, there are many chats, networks, and support groups out there for people to use.
Crisis Text Line
This text messaging service is open 24/7 nationwide in the U.S. Over the last seven years, more than 79 million texts have been exchanged using this service.
IMAlive Crisis Chatline
The IMAlive Crisis Chatline is open 24/7 for individuals worldwide. It is an anonymous instant-messaging service that can be accessed online.
ADAA Online Support Group
The Anxiety and Depression Association of America has an online support group for over 18,000 subscribers worldwide.
In Conclusion
There are many more suicide prevention organizations out there. So, be sure to do some research of your own to learn what local resources are available to you.
If you or someone you know is struggling with mental illness or suicidal thoughts, don't hesitate to contact the National Suicide Prevention Lifeline. There is no reason for anyone to suffer in silence.
If you would like more information on mental health and suicide prevention, visit our website. We also have a training about opioid awareness.
Good luck and stay safe!