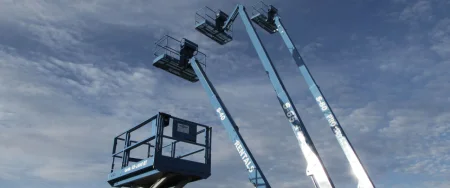 Mobile elevating work platforms or MEWPs are broken into groups and types. The various classifications may seem irrelevant to you right now, but when it comes time to select the appropriate machine for a job task, you will need to know what these MEWP types are.
What is the meaning of MEWP?
Before we jump into the different types of MEWPs, you should understand what exactly a MEWP is. These machines used to be called aerial lifts, but recent updates to standards changed the official term to mobile elevating work platform or "MEWP."
What are the different types of MEWPs?
MEWPs can come in all shapes and sizes. The easiest way to differentiate between all the types is to look at whether they have a boom or not. Machines without a boom are usually vertical lifts or scissor lifts. Machines with a boom can be mast lifts, articulating boom lifts, telescopic booms, and truck-mounted lifts. (Health & Safety Training Limited)
What are the MEWP categories?
The different types of MEWPs are first broken into Group A or Group B lifts. The groups separate MEWPs according to how they elevate. Group A lifts can only raise the platform vertically. This category includes scissor lifts and vertical lifts. Group B lifts include all other MEWPs, meaning any other kind of boom lift.
Beyond these categories, MEWPs are also classified by type. The types of MEWP are divided according to travel capabilities. Type 1 MEWPs are only allowed to travel with the lift in the stowed position. For type 2 machines, they can travel with the platform in an elevated position and are controlled from the chassis area. Type 3 MEWPs can also travel with the platform elevated; however, they are controlled from within the work platform.
Now that you understand the different types of MEWPs, take the time to choose the right one for you. For more information on MEWP safety, check out our website.
Good luck, and stay safe!