Table of Contents
---
OSHA Outreach Safety Program
The OSHA Outreach Program explains workplace hazards, workers' rights, employer responsibilities, and how to file an OSHA-level complaint.
Its purpose is to promote workplace safety and health, help workers become more aware of workplace hazards, and teach them their rights. The OSHA Outreach Training Program was initiated in 1971 and has grown significantly since then. In recent years, more than five million workers were trained in job hazard recognition and prevention through this program.
What Does the OSHA Outreach Program Involve?
There are four different categories represented in the OSHA Outreach Training Program. These four categories are:
General Industry (Available now on HardHatTraining.com)
Construction Industry (Available now on HardHatTraining.com)
Maritime Industry
Disaster Site Workers
Each work industry in the program has both an OSHA 10-hour course and an OSHA 30-hour course. Both courses cover different topics based on the industry you work in; however, the overall intended audience for these courses are the same, no matter the industry.
The OSHA 10-hour training courses teach basic, industry-specific safety and health information for entry-level employees. The OSHA 30-hour training courses are intended to provide employees with some safety responsibility and more varied and in-depth training. This means that this course is aimed more toward supervisor- and management-level workers.
For the sake of this article, we will only be going through the details of the OSHA 10-hour training courses for General Industry and Construction.
Understanding OSHA Training
The fact is, OSHA does not offer certification or training to companies or employees. This is a significant truth regarding the agency. Companies and organizations that are not directly associated with OSHA sell training programs and provide OSHA-compliant training that can certify workers to carry out certain jobs or work in specific conditions.
Each employer is in charge of establishing a secure workplace and seeing to it that their staff is appropriately trained. They should pick a reputable merchant that provides OSHA-compliant information when deciding where to send their staff to receive the training they require.
OSHA Standards vs. OSHA Outreach Program
It is important to note that the OSHA Outreach Program is voluntary and does not meet the training requirements for any OSHA standards. Some states and companies might require one or both of the courses as a condition of employment, but it is not an OSHA requirement.
It is also important to note that the completion of an OSHA 10-hour or 30-hour course through this program is not a substitute for the completion of other training courses that are required through OSHA standards.
All OSHA 10-Hour Safety Courses
Before we dive into the differences between the General Industry and Construction Industry 10 hour courses, let's first find the similarities. As stated earlier, the OSHA 10 courses are curated for newer employees who would not be well versed in the hazards present in their work area or industry.
All OSHA 10-hour safety courses are required to cover the "Intro to OSHA" topic. This section should take up about an hour of the training and must include subtopics such as:
Rights: Employers must comply with the legal rights that OSHA provides for employees. These rights ensure that the employee is compensated correctly, treated fairly, and not discriminated against.
Standards: Employers must follow OSHA standards—one way that OSHA ensures employee safety and protection. That way, employees are not put in danger and they get the training they need to do their job safely.
Inspections: OSHA inspects workplaces at unexpected times to ensure that employers adhere to OSHA standards.
Education: OSHA assists employees by educating them about their employer's responsibilities and common hazards they may encounter. Educating employees is one way OSHA ensures that employees know their rights and where to go if they need to report hazards or learn more about workplace procedures.
OSHA 10 courses are also required to cover the basic hazards that can be found within that work industry. In doing this, employees who take the course will have a better shot at avoiding and/or eliminating hazards they encounter.
The Benefits Both Courses Offer
There are many benefits available to both employees and employers when it comes to this program. A few examples of these benefits are:
The program promotes safety culture through peer training
Training is intended to be participatory, utilizing hands-on experiences
Trainers are able to tailor the training topics based on the specific needs of the audience
Outreach training emphasizes the value of safety and health to employees
You Can Receive OSHA Cards for Both
A compact, wallet-sized plastic card known as an OSHA card serves as proof that you have successfully finished a safety training program. Typically, receiving an OSHA card only follows the successful completion of an OSHA 10 Hour Course or OSHA 30-hour safety training program. It is a card that may be produced at any moment to demonstrate that a worker has received the necessary safety training. Federal law does not mandate OSHA cards for all employees, although certain states and corporations do.
At Hard Hat Training, we provide printable certificates, including a card big enough to fit in your wallet. These are provided in a form that may be printed when any of our courses, not just the 10- and 30-hour safety training courses, have been completed. OSHA cards do not expire, unlike the majority of credentials, which do so after one to three years.
How to Get an OSHA Card
OSHA cards can be acquired via a straightforward procedure. You start by going to the website where you want to get the training. Following that, you must:
Enroll in a training course and complete the training either online or in person
Pass a written examination
Pass a practical examination
Download the certification and wait for the card to arrive by mail
If you receive instruction through the Outreach Training Program, the process is a little more drawn out and the card may take 2 to 8 weeks to arrive by mail. However, the procedure at Hard Hat Training is rather simple and quick. Our training materials come with a wallet-sized card and a certificate template that you can fill out and print once the course is finished.
The OSHA Outreach Training Program is thought to be the most common way for people to receive OSHA cards. The Department of Labor issues cards to participants who finish a course under this program. These training sessions are delivered by a national network of trainers that work with the program. When selecting one from the Outreach Training Program, be sure to locate one that meets your needs because their schedules and availability will differ.
You should be aware that while Outreach OSHA cards never expire, certain employers and states could demand that employees undergo outreach training programs every few years or so.
Do I Need My Employer's Consent?
If your employer does not require you to take this course, but you are still interested in completing it, you can still take it. You do not need your employers consent to take any OSHA 10- or 30-hour course for any industry.
What is the General Industry? Do I Need Training?
The term "general industry" refers to workplaces that are not involved in agriculture, construction, or maritime but are still regulated by OSHA. Other than factories and warehouses, most general industry workplaces face few hazards. Some employers may require their employees to take an OSHA 10 General Industry course before starting work, but it is not always necessary.
Topics Normally Covered in OSHA 10 General Industry Training
General Industry covers a lot of specific topics that may or may not be present in every workplace within an industry. Some of these topics covered in an OSHA 10 General Industry course include:
Introduction to OSHA: employee rights, employer responsibility, how to file a complaint with OSHA
Electrical safety
Exit routes, Emergency Action Plans (EAPs), and fire prevention
Walking and working surfaces
Flammable and combustible liquids
Personal protective equipment
Machine guarding
Hazard communication
Introduction to bloodborne pathogens
Safety and health programs
Safety data sheets (SDSs)
Hierarchy of controls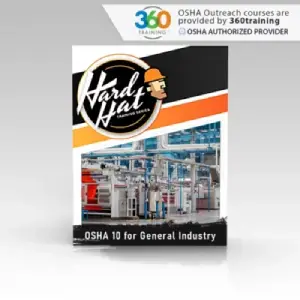 Many of these topics are specific to industrial work, like electrical or machine safeguarding. It may not be necessary for a lot of the employees working in the general industry, which is why some employers will not require you to take this course.
General Industry OSHA Course Topics That Will Require More Training
However, some employees will use a lot of the information that is present in the training. In fact, there are quite a few topics that, once covered in the OSHA 10, will require additional training. A few of these topics could be:
Bloodborne pathogens
Ionizing and non-ionizing radiation
Confined spaces
Welding and cutting
Petroleum refining
Most heavy equipment
A Little about Construction
The construction industry is one of the most hazardous workplaces; employees in the construction industry face danger on a daily basis. Many employers require their employees to take an OSHA 10 Construction course before starting work for this reason.
Topics Covered in the OSHA 10 Construction Course
The topics that are covered in the OSHA 10-hour course for the Construction Industry can be broken down into general topics. Several of these generalized ideas could be broken down further into more specific learning topics:
Introduction to OSHA: employee rights, employer responsibility, how to file a complaint with OSHA
OSHA "focus four" hazards: falls, electrocution, struck-by, caught in/between
Personal protective and lifesaving equipment
Health hazards in construction
Cranes, derricks, hoists, elevators, and conveyors
Excavations
Handling, storage, usage, and disposal of materials
Scaffolds
Hand and power tools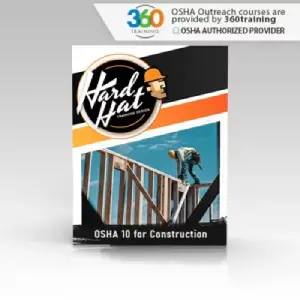 Hard Hat Training is the Ultimate Resource for Safety Management
There are lots of ways to accomplish safety training that are easy, affordable, and convenient. In the end, safety training should be a blessing, not a burden. That's why we offer a selection of training methods so that you can choose the most convenient one for your company.