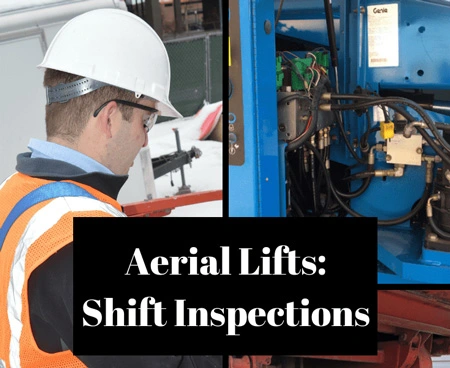 When on a construction site, what do you see most? Most likely it is some sort of aerial lift. These aerial lifts are a huge help but can be dangerous when not inspected correctly. Every aerial lift operator should check these six things at the beginning of every shift: structural damage, manuals and decals, platforms/baskets, tires and outriggers, engines, and fall protection equipment.
Damage
When you start the shift inspection or the walk around, you always want to look for damage to the lift. Damage can be anywhere on the body, the boom or the hydraulic hoses. If any of these areas are damaged, operating the lift can be dangerous. If any crucial area or part is damaged, replace it before any operation.
Manuals and Decals
Because manuals and decals are key to operate any lift, they need to be located on the lift and be in good condition. The manual will help with the inspection process and operation, while decals show the warning around the lift as well as the capacity of the platform or the basket. Replace immediately if damaged, missing or illegible.
Platform or Basket
When inspecting, thoroughly check the work platform or basket. You want to make sure the floor is sturdy and that the lift controls are clear and in good condition. In places with inclement weather, make sure the floor is dry or clear of debris and snow.
Tires and Outriggers
The thing that gives aerial lifts an advantage is the tires that provide mobility and the outriggers that give needed support. Always inspect the tires for damage to the wheels and rims, and check the tire pressure if applicable. Inspect the outriggers framing and pads for damage, then replace if needed.
Engine
The engine is the heart of the lift and needs to be inspected before every shift. The engine bay should be inspected to find leaks, damaged parts, electrical issues, and running issues that need correcting. As well with the engine, the hydraulic systems need to be inspected for leaks, functions, and damages before use.
Fall protection
Fall protection for aerial lifts is essential because you are so high up there and OSHA requires fall protection for heights of 4, 6 and 10 feet. When inspecting you want to inspect your fall protection that consists of entry gates and harnesses. Make sure entry gates lock and are in good condition as well check harness for damage.
Conclusion
Aerial lifts are a great tool so make sure they are taken care of and inspected correctly. Inspections can mean the difference between safety or death, choose the Safety Provisions way, not the hard way!
Learn about our Aerial Lift Training on the Hard Hat Training website.
Good Luck and be safe!