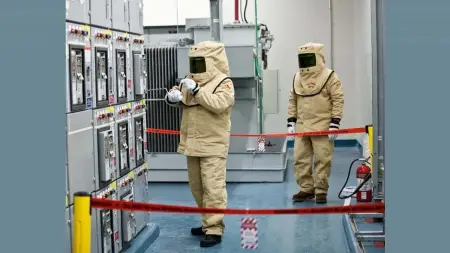 The results from arc flashes are usually very violent when a worker is nearby and can cause serious injury or death. The serious threat arc flashes can make in a workplace, OSHA and Cal OSHA have set standards to help prevent serious injuries or death. There are several safety rules that you need to familiar with.
Basic Arc Flash Safety Rules
There are several safety rules when it comes to arc flash. The first is the warning labels that some equipment must have. Whenever the equipment operates at more than 50 volts, there will be specific warning labels for the boundaries and PPE that are necessary for employees to be safe.
There are boundaries that regulate the approach and protection employees must take when they are near these pieces of equipment. Some of these boundaries are for non-qualified employees, and other boundaries are for qualified employees.
All employees must oblige to the warning labels; however, only the qualified workers may work on or be near the equipment. A qualified person is trained and trusted to work within the restricted work boundary. They have the knowledge and skills to identify and avoid hazards and to operate the electrical equipment.
The last important component for the safety against arc flash is PPE. The PPE is directly classified by the amount of potential energy of the equipment being worked on. The bare minimum PPE is an Arc Rated (AR) long-sleeve shirt and pants, AR face shield, AR gloves, insulated tools, and AR jacket.
These are several safety rules that you need to familiar with. To learn more, check out this Arc Flash training package to educate and certify yourself in arc flash, and most of all to be safe in your workplace.
Good luck and stay safe!