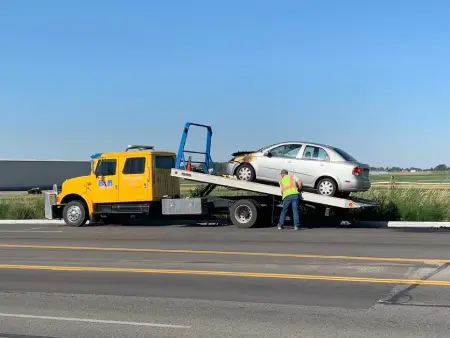 There is often confusion about what it takes to become a tow truck driver, especially when considering what types of licensing and certification is necessary. With GCWRs and levels of certifications, the confusion is certainly understandable. However, when you break it all down, it's surprisingly simple.
What is a CDL, and do I need one?
CDL stands for "Commercial Driver's License," and whether you need one or not varies depending on the state in which you are operating as well as the weight of the loads you are towing. However, many companies require a CDL even if the state doesn't. Of course, no matter what, you must have a standard state-issued driver's license.
A CDL is typically required whenever your GCWR, or Gross combined vehicle weight rating, exceeds 26,000 pounds. Tow trucks can vary greatly in size and weight, as well as the loads you will be towing. This is why it is wise to obtain a CDL regardless of local regulations and laws.
To obtain a CDL, you will need to pass a skills test. The skills test involves a vehicle inspection test, basic controls test, and a road test.
What about other certifications?
There is more to becoming a tow truck driver than simply obtaining a CDL. After you have some experience towing, you are eligible to work towards three levels of certification.
Level 1: Level one certification is for those who tow very basic or "light-duty" loads. To receive level one certification, you need at least 90 days of tow truck experience. Then, you must pass a level one certification 100 question test.
Level 2: Level two certification is for those who will be towing medium to heavy duty loads. To get this certification, you must have a CDL and one year of experience as a recovery operator. The certification test for level two operators includes a written theoretical knowledge test and an oral situational test.
Level 3: After you have obtained your level one and level two certifications, you can get certified as a heavy recovery specialist. You must have two years of professional experience as well as any endorsements you might need, such as the H endorsement which allows you to operate a vehicle containing hazardous materials. The test is similar to the level two test, as it also asks theoretical and situational questions.
What about safety training requirements?
Even if you have certifications proving you know how to tow different loads, that doesn't always mean that you understand how to tow loads safely. Operating a tow truck involves many different hazards that you should be prepared for. According to NIOSH, the number of deaths in the towing industry was fifteen times the rate for other U.S. private industries.
Hard Hat Training's OSHA Aligned Tow Truck Safety Training teaches you what to look for during your pre-shift inspection, how to operate safely, and what common hazards you should watch out for.
Good luck, and stay safe!