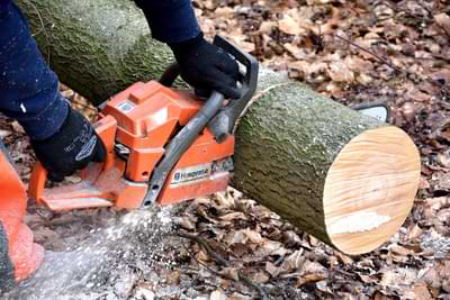 Chainsaws, while useful and for many kinds of projects, can be incredibly dangerous to use. Let's take a look at a fatal chainsaw incident in Colbert, Georgia, and how the Hard Hat Training Series can help inform you on chainsaw safety.
Chainsaws are an incredibly powerful and efficient tool for all kinds of projects. However, their cutting ability also comes with incredible risk to those that use them. Safety precautions are a necessity anytime you operate a chainsaw.
Unfortunately, chainsaw accidents can still occur. On Dec. 22, Anthony Mazerika was killed after his chainsaw kicked back and struck him in the throat (Athens Banner-Herald). Mazerika was cutting poles for a shed he was building with his brother when the incident occurred. While Mazerika was cutting a notch on the pole, he tried to kick out the block he was cutting. As he was doing this, the chainsaw suddenly kicked back and struck Anthony.
Chainsaw Accidents and Injuries
The operation of chainsaws results in over 28,000 chainsaw-related injuries per year (pubmed.gov). The most common hazard when operating a chainsaw is kickback. Kickback happens when the chainsaw's chain is suddenly stopped by contact with a hard area. This can throw the saw rapidly backward toward the operator.
OSHA has provided a fact sheet that outlines some of the safety practices and guidelines for operating a chainsaw safely. These outlines include:
Making sure your work area is clean and free of hazards.
Performing safety checks on the chainsaw before operating it.
Using safe methods while operating the saw.
Following Personal Protective Equipment (PPE) requirements.
Providing training to anyone that will be operating a chainsaw.
Chainsaw Safety Training is Vitally Important
Knowledge of the safety practices needed to operate a chainsaw are key to preventing chainsaw-related injuries or deaths. The Hard Hat Training Series has an online Chainsaw Safety Training available to help provide the knowledge needed to stay safe in the workplace. Good luck, and stay safe!