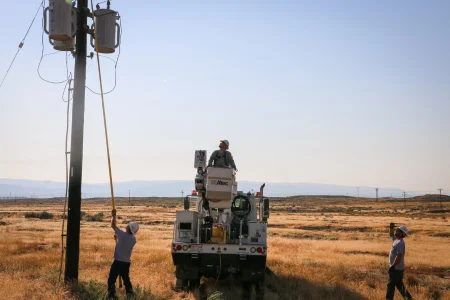 We here at Hard Hat Training continue to expand our catalog so we can bring you the training you need to go home safe and sound every day. That is why we are excited to announce our latest training, Overhead Electric Utilities.
What's in It?
Our Overhead Electric Utilities training takes a look at proper grounding procedures; equipment you may work with or around when working on overhead electrical utilities, including cranes and bucket trucks; best practices for working safely on-site; and pole-top and tower-top rescue. And it wouldn't be a Hard Hat training without some case studies to help illustrate the topics in the training.
While electricity has been a great tool, when you don't take the necessary precautions, it can be dangerous. Our goal with this training is to help you understand procedures and standards related to overhead electric utilities so you can develop safe work habits.
What Standards Does it Cover?
You should always familiarize yourself with all applicable federal, state, and local standards before beginning work on or around overhead electrical lines. That being said, our new training encompasses the following laws and regulations:
29 CFR 1910.268 – Telecommunications
29 CFR 1910 Subpart R – Special Industries
29 CFR 1910.269 – Electric Power Generation, Transmission, and Distribution
29 CFR 1926 Subpart V – Electric Power Transmission and Distribution
29 CFR 1926.964 – Overhead Lines and Live-line Barehand Work
29 CFR 1926 Subpart V App D – Methods of Inspecting and Testing Wood Poles
29 CFR 1926.957 – Live-line Tools
Who Should Take It?
Our Overhead Electric Utilities training is meant for those working on or near overhead electrical and utility lines, both energized and de-energized. This includes those performing pole-top or tower-top work, as well as employees supporting them from the ground.
While the vast majority of our training courses are designed to benefit the greenest beginner as well as the seasoned veteran (and everyone in between), we recommend this training for employees who have some background in electricity, its hazards, and how to work safely around it. For that reason, we recommend taking a couple of courses before diving into Overhead Electric Utilities:
Still not sure if you need this training? Don't hesitate to reach out to our amazing office team; they are anxiously waiting to answer all your questions! They can even arrange for you to view a sample of the course. Or, you can purchase the kit now!
Good luck and stay safe!