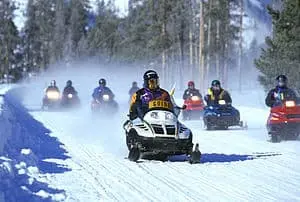 With the recent increase in snowfall people are finally getting the opportunity to break out their snowmobiles and hit the mountains.  In recent years snowmobiles have become more and more popular, but with it, the number of serious accidents and fatalities. Each year snowmobiles account for approximately 200 deaths and 14,000 injuries according to the U.S. National Institute of Health. But honestly, what else would you expect to happen if you are behind an 500 plus pound machine traveling at speeds exceeding 90 MPH? To make matters worse, there is little regulation on these machines, depending on the state that you are in.
According to Wisconsin Department of Natural Resources, most people who are involved fatal snowmobile accidents have over 100 hours of experience behind a snowmobile.  Many of the accidents involved alcohol use, and all the fatalities were wearing helmets at the time of the crash.
These statistics illuminate certain safety principals that should be followed while snowmobiling. The first is to never drink and ride. You have heard this before with drunk driving. It's the same principal with operating a snowmobile. Never drink and ride a snowmobile or let anyone else do so.
Make sure that you receive safety training on the machine before operating one. Although not required by many states, getting these certifications will train you on how recognize dangers and minimize the hazards that come with riding these machines.
Many accidents occur after 6:00 P.M. Riding at later times increases the risk, as the trail is less illuminated. As such, avoid riding at night, or when visibility is decreased. Make sure that the headlights on your machine work adequately, and that when riding with compromised visibility that you lower your speed to manageable levels.
Always wear safety equipment, especially a helmet. Although it may not save everyone from serious injury, wearing safety gear will highly decrease the chance of serious injury. It is especially important to protect your head from injury as head injury is the number one cause of fatalities from snowmobiles.
Taking care of your machine is another essential aspect of safety on snowmobiles. This will prevent accidents due to malfunctions on the machine its self.
Although these are some ways you can keep yourself safe, there are still many more things that you should be aware of. Because of this it is highly encouraged that you take a Certified safety course on snowmobiles before you go out riding. These courses will thoroughly train you on what we have talked about as well as other important safety concerns. Good luck and ride safe.
For safety training, please visit us at www.hardhattraining.com.