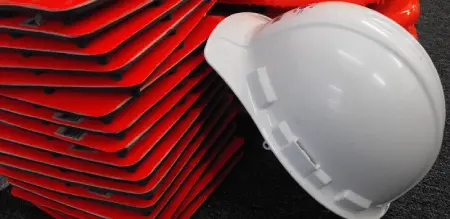 Skid Steer Safety Training
Listen, love it or hate it, PowerPoint is a tool that many people use to train. This is true in maritime, construction, industrial, etc. And while it has pros and cons like any training tool, I have seen great looking PowerPoint presentations delivered dryly, as well as poor looking presentations delivered dynamically. Again, it's a tool for you to use, which means how you use it is up to you.
As far as our Hard Hat Training Series goes, we use a variety of programs to create tools for employers to use to train their own heavy equipment operators. Our OSHA Aligned training kits come with a main Skid Steer Safety PowerPoint. The reasons for this are very simple: one, almost everyone has it; and two, and most importantly, it can be customized. We've done the legwork for you, but once you buy the kit, the presentation and other files are yours to use, print, and customize as often as needed. Add slides, add images, add test questions, change out of logo for heaven's sake! Make it work for you.
In fact, that's what OSHA requires of you anyway. Regulations state that heavy equipment operators need to be trained according to the specific equipment, specific job, and worksite.
So if you have always used a John Deere skid steer loader, but now you are asked to hop on a Bobcat skid steer then you will most likely need some additional training. These presentations can help. Just change them up as needed or skip to the section specifically addressing Bobcat skid steer operator controls.
Having said, take a moment and check out our new OSHA training kit for skid steer loader safety training. Check out a sample of the Skid Steer Training PPT below to see what the presentation will look like. Keep in mind, you can change anything you want using Microsoft PowerPoint.
Check out full details about this Skid Steer Operator Training Program where you or your crew can get the skid steer certification and training OSHA requires.
Skid Steers: 9 Safety Tips
If you work in the construction or agriculture industries, then you've probably worked around a skid steer at some point. Employers and workers use skid steers for a lot of different purposes. However, many might not fully appreciate the hazards and dangers of working with them.
A few recent accidents involving skid steers show just how dangerous they can be when not properly following safety protocols.
On September 11, a Utah man underwent surgery after a skid steer crushed him between the lift arm and the tire treads. His status is currently unknown.
Last month in New York, a man driving a skid steer backed over a toddler in a farming accident. The one-year-old died at the scene.
We do not have all the details about those accidents. However, we suppose, like with many other accidents, those involved misunderstood basic safety precautions or simply ignored them.
If you operate a skid steer or work around one, follow these nine skid steer safety tips to try to minimize hazardous situations.
Skid Steer Safety Tips
Read, understand, and follow the operator's manual before using the skid steer.
Always lower the bucket or attachment so it is flat on the ground before exiting. Don't attempt to activate the skid-steer loader's controls from outside the operator's compartment.
Do not leave the operator's seat while the engine is on. Remain properly seated with the seat belt or seat bar in place before activating the controls.
Keep all body parts inside the cab while operating.
Never modify or disable the skid steer's safety systems, nor operate modified or malfunctioning equipment. Have it repaired or replaced immediately.
Never permit riders on the skid steer loader, in the bucket or attachment. Also, don't permit riders in the operator's compartment unless it is specifically designed for a second rider.
Keep bystanders a safe distance away from the work area. Be aware of their location at all times. If they leave your site, cease all operations until they have been located.
Conduct pre-operational inspections to ensure all safety systems function properly each day. Also, follow the manufacturer's maintenance and inspection schedules as detailed in the operator's manual.
Follow the manufacturer's instructions for maintaining the skid steer. Never attempt maintenance or other work with raised lift arms or attachments without using an approved support device. Replace protective guards and shields after repairs or service.
Remember, all personnel should be trained on how to inspect, use, maintain, or repair a skid steer before operating the machine. Also, supervisors should be trained to recognize unsafe practices, such as exiting the machine with the lift arm raised.
If you or your company needs training, we offer Skid Steer Training. We also offer a variety of other heavy equipment trainings at www.hardhattraining.com.
Skid Steer Training PPT
View a Sample of the Skid Steer Training PPT (100% OSHA Aligned)