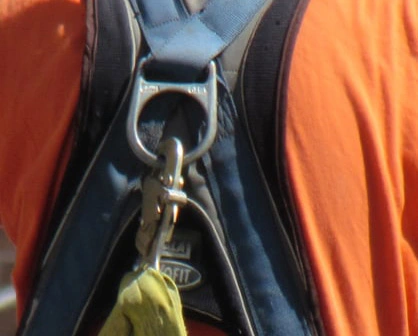 Walking and Working Hazards
We know that slip, trip, and fall hazards are some of the most prominent in construction fatalities; especially when it comes to personal protective equipment. So what exactly is OSHA's stance on the hazard now, with all the rule changes happening? Read below to find out.
"The Occupational Safety and Health Administration(OSHA) issued a final rule updating its general industry Walking-Working Surfaces standards specific to slip, trip, and fall hazards. The rule also includes a new section under the general industry Personal Protective Equipment standards that establishes employer requirements for using personal fall protection systems.
"The final rule will increase workplace protection from those hazards, especially fall hazards, which are a leading cause of worker deaths and injuries," said Assistant Secretary of Labor for Occupational Safety and Health Dr. David Michaels. "OSHA believes advances in technology and greater flexibility will reduce worker deaths and injuries from falls."
The final rule also increases consistency between general and construction industries, which will help employers and workers that work in both industries.
OSHA estimates the final standard will prevent 29 fatalities and more than 5,842 injuries annually. The rule becomes effective on Jan. 17, 2017, and will affect approximately 112 million workers at seven million worksites.
The final rule's most significant update is allowing employers to select the fall protection system that works best for them, choosing from a range of accepted options including personal fall protection systems. OSHA has permitted the use of personal fall protection systems in construction since 1994 and the final rule adopts similar requirements for general industry. Other changes include allowing employers to use rope descent systems up to 300 feet above a lower level; prohibiting the use of body belts as part of a personal fall arrest system; and requiring worker training on personal fall protection systems and fall equipment.
Under the Occupational Safety and Health Act of 1970, employers are responsible for providing safe and healthful workplaces for their employees. OSHA's role is to ensure these conditions for America's working men and women by setting and enforcing standards, and providing training, education, and assistance."
This hazard and standard is not exempt from rule changes, but, just as with all other changes, it is predicted to prevent so many more fatalities in the year to come. Be sure that, no matter what industry or job, you are properly trained in all aspects of it. Know not only the standards, but also the proper use and care of everything you use.
Slips, Trips, and Falls: Silent Killers
When was the last time you slipped or slid on something that you didn't see? Or when was the last time you saw a "caution" sign placed on the ground near something slippery? Slips, trips, and falls are so common, and can happen anywhere, and at any time. No matter where your workplace is, you should always be aware of anything that can cause a slipping hazard.
One website says, "Recent statistics from the Congressional Accountability Office of alignment indicate that employee falls are the third leading cause of workplace fatalities in private industry.
That's 25% of all occupational injuries requiring time off work. Slip, Trip & Fall injuries are also notoriously difficult to resolve for those managing workers compensation and return-to-work programs.
Because these incidents are universal to all work environments, OSHA Requirements for working surfaces apply to all permanent places of employment, except where domestic, mining, or agricultural work is performed"
This means that at least 600 workers die from fatal slips, trips, and falls each year. 600! That's a lot from just a simple slip. But unfortunately, slips, trips, and falls aren't just simple. Liquids, weather, and unstable objects on the ground can contribute to slips, but that is not all. Leaving items out on the ground or not cleaning up after yourself can create a very dangerous environment, for you and those around you.
Slipping is a silent killer. You may not expect slips to be deadly, as they happen all the time. But one wrong fall can lead to serious trauma or even death. Slips, trips, and falls can all happen in your workplace. Clean up after yourself, don't leave unattached objects lying around, have adequate lighting, and make sure nothing is blocking your view when you walk. Don't become a statistic: be aware of your surroundings.
If you need training, follow the links below:
Online (eLearning) Training Courses