OSHA just released their top ten of the most-cited safety violations for 2015 (these are preliminary numbers and will be officially updated in December). OSHA's list is as follows: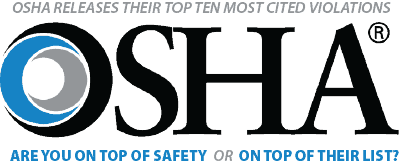 1. Fall Protection (1926.501) – 6,721
2. Hazard Communication (1910.1200) – 5,192
3. Scaffolding (1926.451) – 4,295
4. Respiratory Protection (1910.134) – 3,305
5. Lockout/Tagout (1910.147) – 3,002
6. Powered Industrial Trucks (1910.178) – 2,760
7. Ladders (1926.1053) – 2,489
8. Electrical – Wiring Methods (1910.305) – 2,404
9. Machine Guarding (1910.212) – 2,295
10. Electrical – General Requirements (1910.303) – 1,973
Both interesting, surprising, and frustrating is the fact that little has changed. In fact, the biggest change compared to 2103 and 2014 is that Lockout/Tagout went up a spot and forklift safety went down. but they're still in the top 10 and fall protection accidents are still number one.
This new information begs the deeper question: why? When we know these are problem areas and that they are most often leading to accident, why are we not doing more to address them before they become problems, before OSHA has to come in and investigate and injury or, worse, a fatality? Take this week, for instance: a contractor was recently fined $47,000 for its role in a construction worker's death. The man fell from a roof and died. But it should have never happened had the contractor/employer been on top of safety. The contractor was found in violation of several things, including not requiring the workers to have proper fall protection; not training them on fall protection, scaffold work, and forklift safety; and not carrying out consistent pre-shift inspections. Really? These are basic things that should never be ignored? Were they ignored for the sake of saving time or money? Or was ignorance to blame here?
Here at Hard Hat Training, we have to take a hard stance: in this day and age, there can be no excuse for bad behavior. You cannot plead ignorance anymore. Every employer should know that they need to train their employees--no matter what. I recently spoke with a safety director who said he wanted forklift training, which he recognized as being required, but that he was going to think about our online pedestal crane training course because it was not specifically required by OSHA. First, OSHA requires training for all heavy equipment operators. They may not spell it out directly, but you better believe that you better train your operators. This errant line of thinking would be like my son saying he didn't have to wear his seat belt in the truck because I told him he had to wear in the car.
I can go on and on. We are passionate about safety, and it's how we make our money, but that pales in comparison to the tragedies behind these numbers. We want people to be safe. We want workers to go home at night. And if a safe culture free from fatality means I'm out of a job, then so be it. I'll get a paper route or something.
So please, train, train, train! And get on top of safety before you're on top of OSHA's violation list!