Description
Safety Training Certificate & Wallet Card
OSHA and OHS standards require proof of training. Make sure your safety training certificate matches the quality of the training. Get an official copy sent in the mail for your employer to file under your name. Get an official wallet card to keep with you too! Time, weather, and the daily grind can quickly ruin or diminish the quality of self-printed heavy equipment operator qualification cards. Leave no doubt as to the quality of your operator certification and have us mail you our official Hard Hat Training Series wallet card. Professionally designed and printed, they are sure to hold up.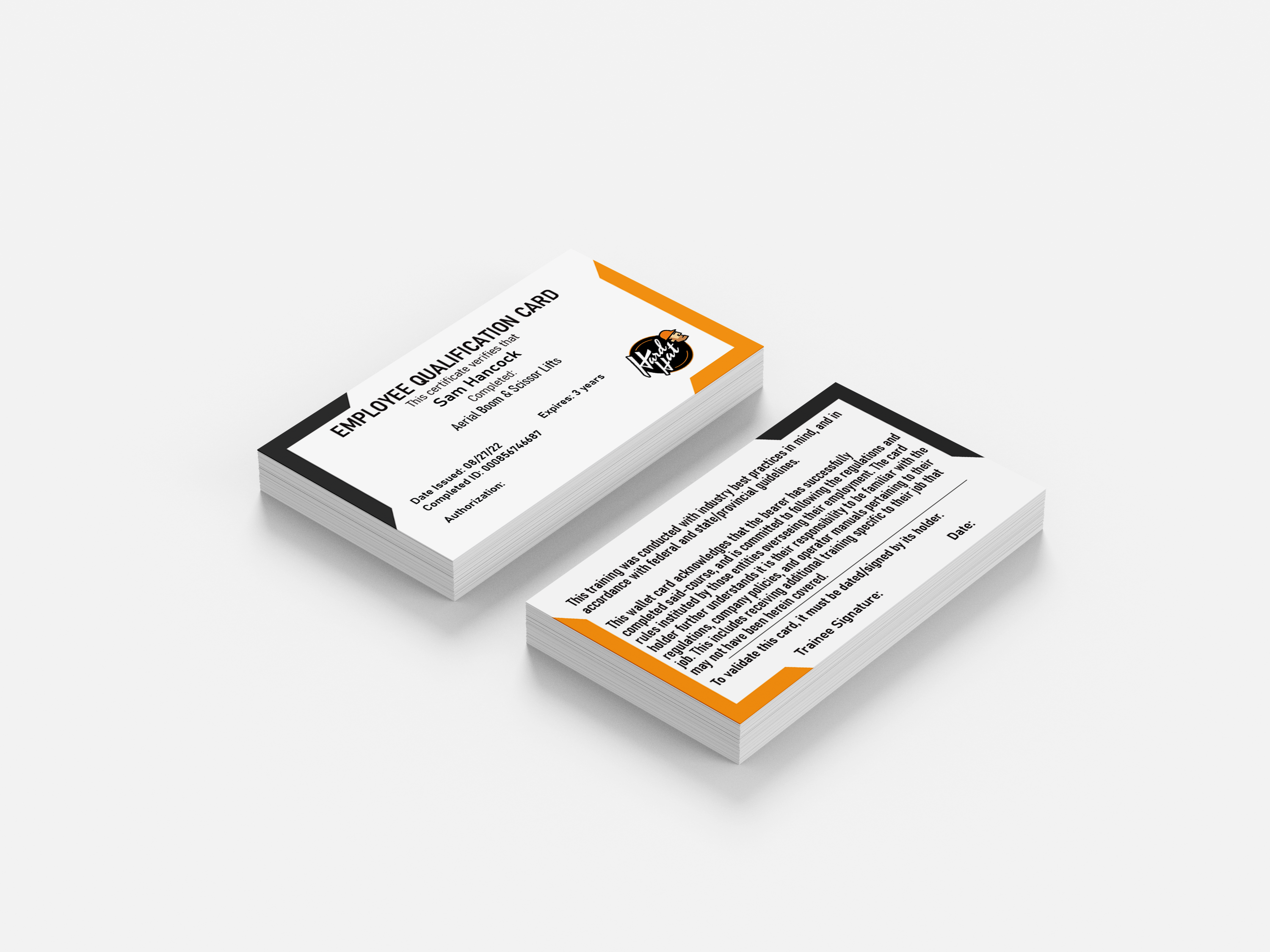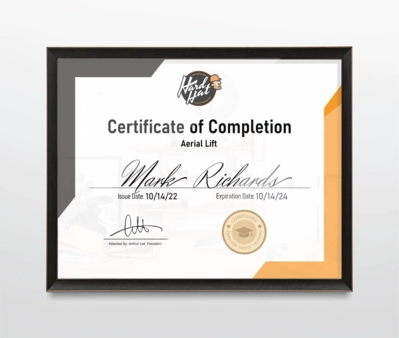 Safety Training Certificate - Safety Courses OSHA Compliant
What Are Safety Training Courses?
Safety training refers to learning programs that instruct personnel on preventative processes and procedures that help to reduce risk or the possibility of accident or fatality on the job. Safety training is a type of compliance training that is provided to protect a company and its employees.
Why Is It Important?
Proper safety training should teach individuals how to deal with safety hazards. Employees will be better equipped to prevent hazards and accidents if they have the correct information. Safety training should include information such as:
How to inform a supervisor of a hazard

How to file an OSHA report

Employees' rights in the face of workplace risks

How to reduce or remove a risk in their workplace
Workers benefit from this education and training because it gives individuals the knowledge and skills they need to conduct their jobs safely and avoid creating risks that could endanger themselves or others.
It also allows them to have an awareness and understanding of workplace hazards, as well as how to identify, report, and control them. Safety training may instill an attitude that prioritizes safety over deadlines, saving money in the long term for all companies.
What Is a Safety Training Certificate?
The purpose of safety training certification is to prepare individuals to work safely and to prevent workplace injuries, illnesses, and fatalities. A professional safety certification is a distinction for employees that demonstrates that they have the necessary experience, knowledge, and skills to prevent safety violations and promote a safe work environment.
Why Do I Need One?
There are numerous advantages to successfully obtaining a safety certification. One of the most significant benefits is the elimination of hazards in the workplace. A safety certification can educate employees about job site hazards. Some risks aren't immediately obvious and require extensive study to understand. In addition to promoting safety and making you a more capable employee, safety training fosters a culture that normalizes safe behavior.
The Safety Training Process
The safety training process is a step-by-step system that was developed and implemented to make the process of training and certifying employees quick, effective, and efficient. Using an online course, there are four key parts to this process. These four parts are:
Choose the course

Taking the course

Taking the final exam

Receiving the certificate
While some parts of the training process take longer to complete than others, they are all important. Throughout the following sections we will dive into detail about each of the key parts.
Step 1 - Select a Safety Course
As an employer, the first step in the safety training process is choosing and then purchasing the safety course you need. You will need to select a course that suits the needs of your employees. For instance, if your employees will be installing roofing at a construction site, the best safety course for them would be a fall protection course.
Here at Hard Hat Training, we have a plethora of different training courses available for you today. Our course catalog presents over 200 different training topics to our customers. We offer courses for each different work industry as well as courses that are category-specific. Some of the categories we train in are:
At heights training

Earthmovers

Community awareness

Fire safety

Industrial hygiene

Medical

So much more!
All of the courses we offer comply with the associated safety standards. Meaning we offer courses that comply with OSHA guidelines as well as courses that adhere to Cal/OSHA regulations.
Discounts
Hard Hat Training provides high-quality content at a very low cost. Furthermore, we offer a variety of discounts on our courses, with some as much as 75% off the original price. We strongly believe in collaborating with our customers to find a pricing that works for their budget. Can't find what you're looking for? Reach out to our wonderful customer service team today for more information on safety courses and pricing.
Step 2 - The Learning Process
Once you have selected the safety training course that best suits your training needs, the next step is simple – have your employees begin the course. This part of the training process is both the longest and most important. Luckily, our safety training courses were specifically designed to be efficient and engaging, making this key aspect of the training process a breeze.
The layout of these courses were created to help the end-user retain the information they learn throughout the course. You can rest easy knowing that your employees are not being slammed with endless or unnecessary information. The knowledge they will take away from our safety courses will be exactly what they need, nothing less and nothing more.
Learning Management System
Another significant reason why our online courses benefit everyone involved in the training process is that they are provided to companies through a platform called a learning management system or LMS. An LMS helps in keeping the safety courses organized and accessible.
The LMS allows employees to keep track of where they are at and how far they have to go in their safety course. The LMS our company uses also allows employers to track their employees' progress.
Step 3 - Take The Final Exam
Once the employees have successfully completed the course, they will be given the opportunity to take the final exam. All of our quiz questions correlate with the information found within the course itself. We will never ask employees to know information we did not give them.
If you are an employee, the best way to ensure that you will pass the exam is by paying attention during the course. You only have to get an 80% to pass and move forward with your certification.
How Long Is It?
The amount of questions in each exam is dependent on the training course you participate in. Longer training courses are likely to contain more questions than shorter training courses.
The length of time the exam will take is entirely dependent on the employee who is taking it. However, 20-30 minutes should provide the employee enough time to thoroughly answer each question.
What Happens If I Do Not Pass?
Our training courses give each learning student two chances to pass the final exam. If your first attempt fails, gather your thoughts, refresh your memory, and try again. If you fail the second time, you will likely have to purchase and retake the course before attempting a third time.
Step 4 - Receive Your Professional Certificate
Once you have passed the final exam, you will be given your certificate which can be downloaded and printed out. If your job requires you to carry your certification with you, you also have the option to print out a wallet-sized card. This will essentially be a smaller version of your certification.
How Many Hours Will I Be Spending on This?
The amount of time that it will take for an employee to complete the safety training process solely depends on what safety course you will be taking. Some of our safety courses only take about 30 minutes to complete, while others could take up to ten hours.
While this may seem time consuming and may even be a little overwhelming, our online learning courses allow the student to start at stop on their own time. Meaning that if you have a strict schedule, you don't have to worry about this taking up a large amount of your time.
Safety Management Systems
A safety management system (SMS) is a formal way to manage safety risk and ensure the effectiveness of safety risk controls. It consists of systematic methods, practices, and policies for managing hazards.
A safety management system aids in the prevention of accidents in the workplace. A dependable safety management system simplifies compliance and saves the time necessary by utilizing safety procedures. Effective safety management also minimizes the physical and financial costs of accidents.
Who is Responsible For Workplace Safety?
Your employer carries the primary responsibility when it comes to workplace safety. Employers are required by OSHA to provide their employees with a workplace that is safe and hazard-free. However, if this is not possible, then they must provide every necessary safety resource, tools, or equipment for the safety of their employees. This includes, but is not limited to:
Personal protective equipment (PPE)

Safety training

Developing an SMS
Employee Responsibility
While employers carry the main responsibilities when it comes to a safe workplace, they do not carry this weight alone. Employees also have responsibilities they must fulfill in order to maintain a safe and healthful environment in the workplace.
For example, employees are responsible for participating in safety training and following all policies and procedures that were implemented for their safety.
For more information check out our related articles Is it worth getting OSHA certified?, What kind of jobs can you get with OSHA certification? and OSHA Fines.